Advancing Employment
Technical Assistance Center for Employment Support Best Practices Supports
The Partnership: Through a grant from GCDD, Advancing Employment seeks to improve employment supports and outcomes for individuals with disabilities who want to work through a technical assistance center that supports Provider Transformation. This process supports the shifting of a disability service provider from a focus on sheltered workshops and other non-work programs to services that foster competitive, integrated employment.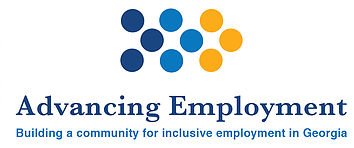 GCDD recognized that there has been tremendous investment in statewide training and believes that in order for Georgia citizens to fully realize the benefits of these investments, we must commit to providing on the ground, individualized technical assistance to providers during their efforts to implement new services and provide best-practice employment supports to job seekers with disabilities.
The Advancing Employment website (funded by GCDD and hosted by UGA's Institute on Human Development and Disability, one of two UCEDDs in GA, became available to the public June 15th and encourages providers to sign up for the Virtual Community of Practice (CoP), as well as allows anyone to sign up for their monthly newsletter.
Visit the Advancing Employment website.
Our Partner: Advancing Employment is dedicated to building a community for inclusive employment in Georgia. It is here where individuals with disabilities, their families, service providers, and others interested in employment can learn and connect with one another.

Advancing Employment is managed by the Institute on Human Development and Disability at the University of Georgia. Since 1965, IHDD has been a Georgia University Center for Excellence in Disability Research, Education and Service (UCEDD), and ranks as one of UGA's oldest continuously-funded federal programs.
Visit them online at their Advancing Employment website.