Real Influence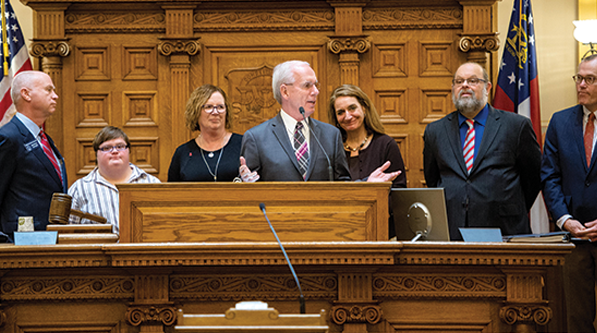 During the early part of the planning process, the Georgia Council on Developmental Disabilities (GCDD)'s Council members identified the need to better market the agency, its name and its product as a top priority. The Council currently publishes several publications whose outcome is to provide people with the information necessary to make informed decisions about their lives and advocate for changes in the system. Making a Difference magazine Public Policy for the People newsletter and GCDD e-news are sent to over 3500 individuals through e-mail and posted to the website. GCDD's website continues to be a tool that people can use to find information. GCDD staff consistently meets with members of the media to respond to questions and pitch stories. In addition, media roundtables are held when the Council's quarterly meeting is held in sites other than Atlanta.
GCDD Vision
GCDD's priority for Real Influence is to increase awareness of the Council's activities and promote initiatives supporting its goal and mission. Advocates throughout the state look to GCDD as a leader in assisting individuals with developmental disabilities and their families to become better advocates and have the skills need to support initiatives throughout the State. In addition, the Council has worked in coalition to educate elected officials about the needs of persons with developmental disabilities and their families. Leadership provided during the General Assembly has resulted in increased funding and passage of legislation that continues to move the State in the right direction. With the upcoming reauthorization of the Developmental Disabilities Bill of Rights and Assistance Act, the need to develop the same kinds of relationship with federal legislators is very apparent. GCDD priority is to support coalitions and advocates in promoting coherent public policies for integrated life in the community for people with developmental disabilities and the people who support them.
GCDD Supported Efforts
Advocacy
Advocacy Days at the Capitol -
During the legisltive session, GCDD holds a series of advocacy days along with the annual Disability Day at the Capitol. Each advocacy day will have training, visits with legislators and networking with others in our community.
Click here
to view information on the 2018 Advocacy Days.
Public Awareness
"Voices Beyond the Mirror" Video Series -
GCDD has created a series of public awareness video clips to mark the 40th Anniversary of the DD Bill of Rights Act of 1971 called "Voices Beyond the Mirror." The video series provides a thoughtful look into the everyday realities of living with different types of disabilities.
Click here
to view the videos.
Public Policy
GCDD Listening Tour
holds a series of community dialogues across the state to talk about issues including education, housing, jobs and regional transportation. It gives people with disabilities and their families a chance to voice their concerns and issues. It makes sure their needs are part of the larger community's agenda.
Click here
to find out information on GCDD's Listening Tours.
Make Your Voices Heard:
Dawn Alford, planning and public policy development specialist, participated with Rep. Pat Gardner in a webinar hosted by Parent 2 Parent. The
video
looks at how you can reach out to your local representatives to talk about the issues most important to you.
Public Information
Making a Difference Magazine
is a quarterly magazine that provides information on pertinent topics related to disability. It includes stories of individuals and families in Georgia, perspectives on hot issues, resources, a calendar of upcoming events, straight talk from a person with disabilities and an ongoing update on the life of a young woman who has disabilities. (
View the magazine.
)
Public Policy for the People Newsletter
is a biweekly publication that is produced during the legislative session to keep people informed about the budgets and bills that are being tracked. It does not editorialize. It just gives the facts. It is a useful tool to help citizens and elected officials keep up with the action at the Capitol. (
View the newsletter)
GCDD e-news
is a quarterly digital e-newsletter created reach out to self-advocates, community leaders, parents and other stakeholders to keep them informed about all of the things happening around Georgia for the disability community. (
View the e-newsletter)
GCDD.org Website -
GCDD has an interactive website that allows interested parties to find up-to-date information at their convenience. It provides information about GCDD, its projects, disability issues and much more. (
www.gcdd.org
)
Media Roundtables -
As GCDD moves around the state to host its quarterly Council meetings, one component is to hold a media roundtable in those locations. The Media Roundtables are usually held at the Chamber of Commerce. Newspaper, radio and television media representatives are invited to attend. Valerie Meadows Suber, Public Information Director, and Eric Jacobson, GCDD Executive Director, serve as hosts. There are usually a few family members and advocates who come to share what the local issues or concerns are. Materials about using People First Language are distributed. The media is encouraged to come and cover the Public Forum that is held the next night.
GCDD Public Policy Initiatives
GCDD's legislative platform supports a number of important items.
Click each item below for more information on the current priorities.
* Indicates Items supported by GCDD but led by other entities
REAL SUPPORTS - DD Waivers
We believe that Georgia should work to eliminate the waiting list for NOW & COMP waivers. These waivers allow individuals with developmental disabilities who qualify for an institutional level of care to receive the supports they need in the community.
REAL LEARNING - Inclusive Post-Secondary Education (IPSE)
We believe that all students, regardless of ability, should have access to post-secondary education programs in the state of Georgia. Inclusive post-secondary programs provide students with intellectual and developmental disabilities access to education not otherwise available.
REAL SUPPORTS - Medicaid
We recognize that Medicaid home and community based services are the lifelines that allow people with intellectual and developmental disabilities to access their communities. We know that any proposal to cut, cap or reduce Medicaid funding to Georgia will put the lives of people with disabilities at risk.
REAL DECISIONS - Supported Decision-Making
We believe that all people, including those with intellectual and developmental disabilities, have the right and capacity to make their own decisions. We endorse supported decision-making agreements as a method for ensuring people have access to real decisions and a self-determined life.
REAL HOMES - Children's Freedom Initiative
We believe that before the state pays to have a child housed in an institutional setting, a parent or guardian must have affirmatively rejected adequate supports to have the child in the home.
Caregiver Registry Expansion
We believe in expanding the caregiver registry passed in the 2018 legislative session to include the caregivers of individuals who use NOW, COMP and ICWP, as well as caregivers of those under age 65 who use SOURCE and CCPS, to ensure all Georgians with disabilities have the same protection and security of a background check for their direct support professionals.
The Shortage of DSPs: Workforce Crisis
We believe that a competent, well-trained, and caring work force of direct support professionals (DSPs) is essential to the health and wellbeing of individuals with disabilities who utilize home-and- community-based services. We support strategies to address this crisis so that people with disabilities can have the care they need.
ABLE Act
We believe in the importance of the Georgia STABLE program and support efforts to grow the enrollment of qualified individuals in Georgia. STABLE accounts can lead to an increase in independence and financial security for enrollees.
Aging & Disability Resource Centers (ADRC)*
The Georgia Council on Aging is advocating for $4 million to strengthen the ADRC statewide network by adding capacity to meet the growing demand for crucial information and access to services.
Organ Transplantation
The Arc Georgia believes that life-saving organ transplants should not be denied because of a person's developmental disability.
Other Partners and Resources
View Our Real Influence Resources