Families, lawmaker call for state to fully fund disability services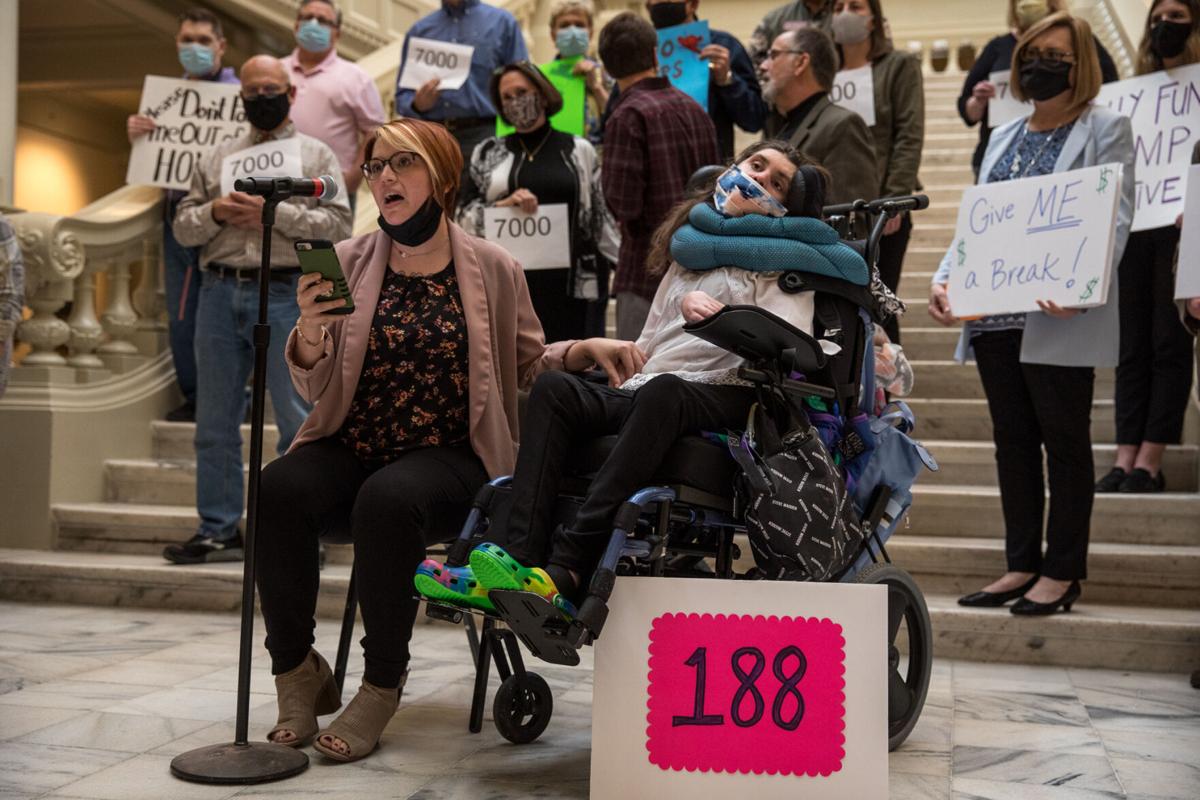 Jefferson resident Brianna James speaks on behalf of her 26-year-old sister, Callie Moore, at a press conference on March 30 about how Medicaid waiver services have allowed Moore to live on her own despite her disabilities.
by Riley Bunch
ATLANTA — Some Georgia families have waited more than a decade for state assistance in caring for their disabled loved ones — many with no end in sight.
A Georgia lawmaker and families of individuals with intellectual and developmental disabilities are calling on the state to fully fund community support services and eliminate the wait list that's been more than 7,000-people long.
After Georgians with disabilities age out of the school system, they and their families must rely on state-funded Medicaid waivers, the New Options and Comprehensive Support waivers — to pay for day care and other support programs. The system is managed by state health departments that have long been strapped for resources.
Georgia lawmakers only fund a handful of new waivers — usually about 100 — every year. The lack of dollars for the program, advocates say, have families pleading for help.
Atlanta Democrat Sally Harrell has filed a bill that outlines a five-year path toward funding the waiting list — an act that she said would cost about $140 million by her estimates, the same amount as the dip in state revenue created by the tax cut this session.
"This struggle to fund the waiting list is not due to a lack of resources," she said Tuesday. "It is due to a lack of political will and we must work to change that."
The yearly budgets would need to include about 1,800 waiver slots during the next five years to do away with the waiting list, she said. The proposed Fiscal Year 2022 budget funds 100 new waiver slots at a cost of about $2 million.
The state of Georgia has long been criticized for its treatment of intellectual and developmentally disabled residents including a lawsuit filed against it by the U.S. Department of Justice. Families struggling to care for disabled relatives say the system is nearly impossible to navigate and parents are left with no answers on how to receive help.
Dunwoody resident Evan Woody suffered a traumatic brain injury as a toddler that, his parents say, left him with the equivalency of a 3-year-old. Now 21, Evan is close to aging out of the school system but has been on the waiting list for support services for more than a decade.
The financial costs to keep Evan living at home and functioning within his community is tens of thousands of dollars every year, said his father, Philip Woody.
"The cost is insurmountable," he said. "And it's not just insurmountable for our family. This is what all families who need the waiver are facing."
Brianna James testified on behalf of her sister, 26-year-old Callie Moore, emphasizing the life-changing impact waiver services can have on Georgians with disabilities. Moore has cerebral palsy and epilepsy, among many other diagnoses and was on the wait list for 15 years.
Now with services, James said, Moore can live like many her age — in her own apartment while attending school.
"Every Georgian deserves the right to live in your own community," James said. "Callie is able to do that because of COMP nursing.
"We want to say loudly, for everyone here, that waivers work," she added.
But services for Moore and 187 Georgians with community-care needs are also in jeopardy. Proposed changes to the waivers — which would need federal approval — would limit the hours of services for the handful of Georgians with severe medical or behavioral health needs that need 24-hour care. Harrell's bill would also eliminate caps on community-based support services.
"These 188 will be forced into group homes or other facilities," James said. "They will lose their independence, their communities and, if we're being honest, some will lose their lives."
The Department of Behavioral Health and Developmental Disabilities, which oversees the waiver programs, has said Georgians who are homeless, left without a caregiver or have severe medical needs are prioritized for waiver services.
Eric Jacobson, executive director of the Georgia Council on Developmental Disabilities, said the wait list creates a hard environment of haves and have-nots within Georgia's disabled community.
"For us, the message that the state is giving is that the system pits people on the waiting list against each other — those that are receiving services with those that are not receiving services," he said. "We think that's a bad strategy."
This article was originally published on Valdosta Daily Times Online on 3/30/2021.
Also published on 3/30/2021 on the following:
Daily Citizen Online (link no longer active)
Also published on 4/10/2021 in the Washington Times-Herald Online