Listening Tour 2014 – First Stop, Thomasville
The tables are overflowing with sweet and spicy wings and stuffed grape leaves. The room is overflowing with bright, boisterous people. And the trees outside are dripping with Spanish moss.

Welcome to Thomasville, first stop on GCDD's 2014 Listening Tour! These tours are a GCDD tradition started by Pat Nobbie, and this summer Dawn Alford, Dave Zilles and I decided to revive them. Only instead of holding the tour at ARCs as the previous tours were, we added a twist by holding this year's tour in various public spaces in the communities we're visiting. We didn't know what kind of turnout to expect, but I was hoping it'd be like Field of Dreams – if you hold it, they will come.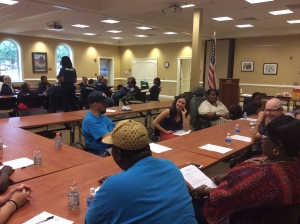 Come they did – 40 people strong! We had such a healthy turnout that the good folks at Thomas County Public Library had to open up a larger room for us (thanks again, TCPL staff, for being so gracious and accommodating). Once we had enough tables and chairs for everyone, we ate, and ate well, potluck style. Dawn and I introduced ourselves, passed out voter registration forms, and talked a bit about who we are at GCDD and what we've been up to lately. Then the real fun began – we split the room into two groups, and it was time for us to shush up and listen.

Our "agenda" had just three questions: What's working in this community? What's not working? And, what are the most important changes we need to make for folks with disabilities?

What is working: community groups and get-togethers, like bingo and bowling. Jobs, like one young man's job at the fire station, and one young woman's job at the local school. Support groups. Living with your friends, living with a sense of independence.
What's not working: forms, forms, too many forms that are too repetitive and too complex. Better partnerships are needed with the tech schools. Flexible transportation is a big need in this rural area. And funding is needed – especially flexible funding, especially when it comes to employment.

That led right into our next question, and one I went around the table to ask each person – what's the most important change we need to make for people with disabilities? There were so many insightful answers I could write for pages, answers like more grassroots outreach, breaking out of poverty, living in safe places, and changing attitudes in the community. But most of the answers focused on jobs – jobs and real, meaningful things to do during the day. As one mother said, people know when you're just giving them something to fill their day, no matter what their IQ is.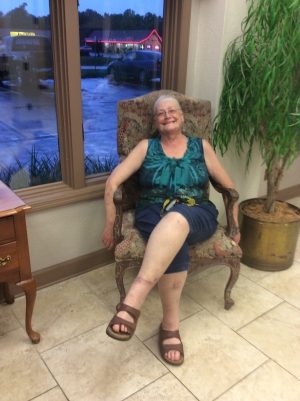 Jean Alford, honorary policy team member and mom of Dawn gets well-earned R&R.

I admit it. I was talking a lot about jobs too. One of the big issues GCDD is working to advocate for is Employment First. Employment First means that work in the community is the primary option in the publically funded service system – work that is paid at or above minimum wage. The reality is that virtually everyone can work with the right supports. That's not just a feel-good slogan, it's really true! Check out the stories at Employment First Georgia for inspiration: http://www.employmentfirstgeorgia.org/

Meanwhile, Dawn and I headed back to Atlanta for Council meeting, full of ideas and looking forward to hitting the road for our next tours. A huge thank you to our wonderful local host, Bonnie Seery, and to Dawn's mother, the lovely Mrs. Jean Alford, for helping make it all happen!

Next stops on the Listening Tour are Monday, July 21st in Savannah and Tuesday, July 22nd in Columbus – please come if you're in the neighborhood, we'd love to see you there!


By D'Arcy Robb
GCDD Public Policy Director
Tags: GCDD, GCDD Listening Tour