Moving Forward: Vol. 19, Issue 7
Welcome to a special Disability Day Edition of Moving Forward. More than 2,500 advocates, family members, and allies gathered at the Capitol steps on a beautiful, warm day to hear speakers Governor Nathan Deal, Jennifer Laszlo Mizrahi, CEO & President of RespectAbilityUSA, and Greg Schmieg, the Executive Director of the Georgia Vocational Rehabilitation Agency (GVRA) . This issue highlights Governor Deal's remarks and his Proclamation of Disability Awareness Day.
In other news at the Gold Dome: SB 397, a bill for autism insurance coverage, sponsored by Senator Tim Golden, was dropped in the Senate Hopper on February 19, passed by the Senate on February 25, and read in the House on February 26. This bill puts a cap on coverage at $35,000 per year and limits coverage to children age 6 and under. Also, HB 700, sponsored by Rep. Keisha Waites, which seeks to in-crease accessibility for those with visual disabilities at the Capitol and CLOB, passed out of the House committee on February 24.
The House and Senate resolved any differences in the FY2014 Amended Budget and it was signed by the Governor on February 26. The FY 2015 budget is still being worked on in the Senate subcommittees.
Get involved: (1) If you are not already a member of the GCDD advocacy network, we invite you to join and receive information as we work together to create a better place for Georgians with disabilities. Go to www.gcdd.org and click on Join our Advocacy Network and follow the instructions. (2) Join our weekly legislative update calls on Monday morning at 9:15 AM. Dial 1-888-355-1249 and enter passcode 232357 at the prompt. (3) Go to www.unlockthewaitinglists.com to get the latest Unlock updates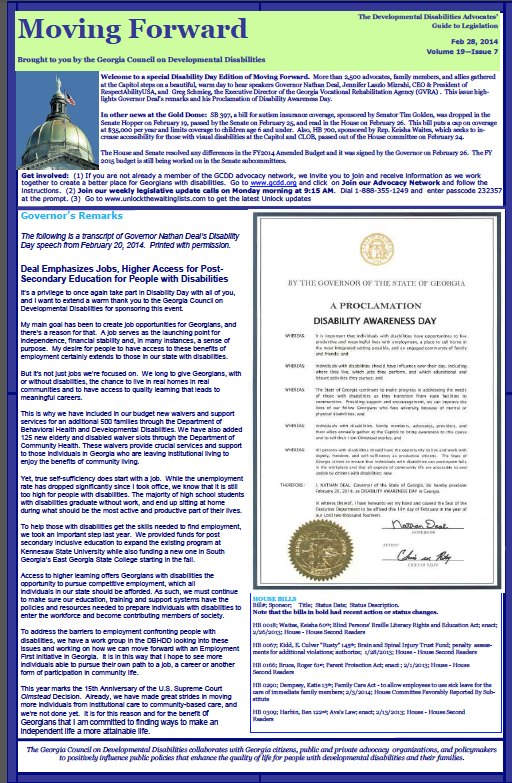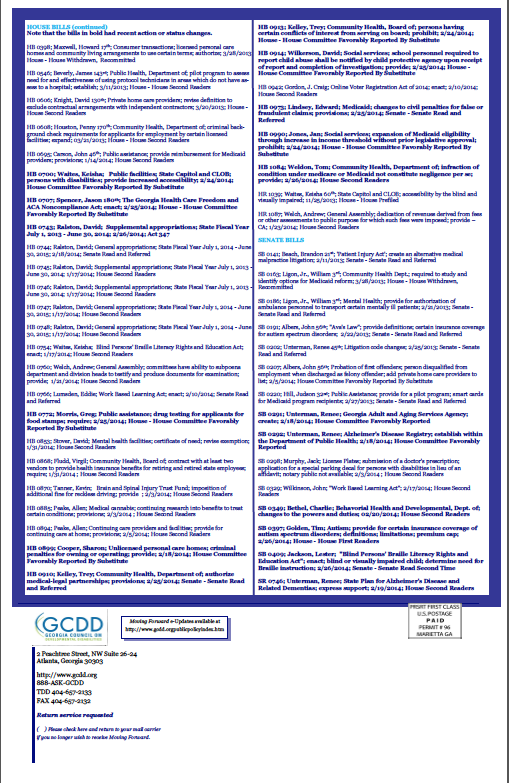 Tags: GCDD, Georgia, Moving Forward, Atlanta