Moving Forward: Vol. 19, Issue 5
Today, February 7 marks the 19th legislative day of the session. On Monday of this week, the House Human Relations and Aging Committee met and voted on HB 290, the Family Care Act. This bill passed out of committee by a 6-2 vote. Be sure to contact your House member to let them know how you want them to vote on HB 290.

In this issue, we will focus on the Governor's proposed budget for the Department of Education. Please see details below. You can view the budget yourself at http://opb.georgia.gov. On Wednesday, February 5, HB 743, the Amended FY2014 budget, was passed by the Senate Appropriations Committee and then was read the second time in the Senate on Thursday, February 6. The FY 2015 budget hearings began this week. We anticipate that the FY 2015 budget will go to the full House for a vote toward the end of next week.
Get involved: (1) If you are not already a member of the GCDD advocacy network, we invite you to join and receive information as we work together to create a better place for Georgians with disabilities. Go to www.gcdd.org and click on Join our Advocacy Network and follow the instructions. (2) Register for the February 20th Disability Day at the Capitol: http://bit.ly/1eT5C5s (3) Join our weekly legislative update calls on Monday morning at 9:15 AM. Dial 1-888-355-1249 and enter passcode 232357 at the prompt.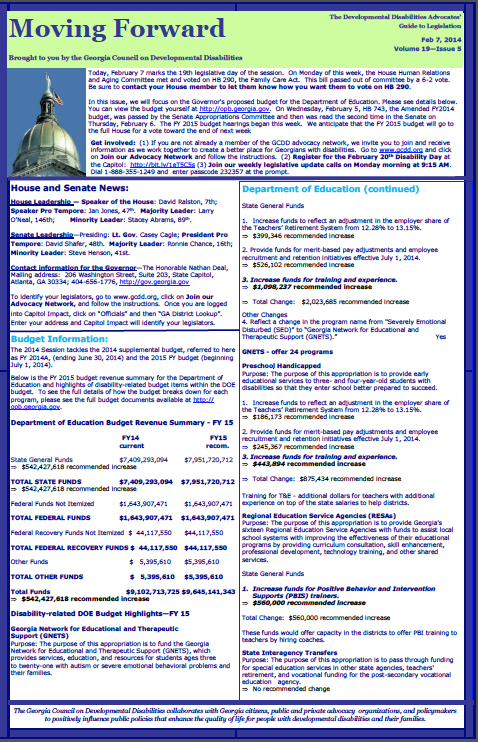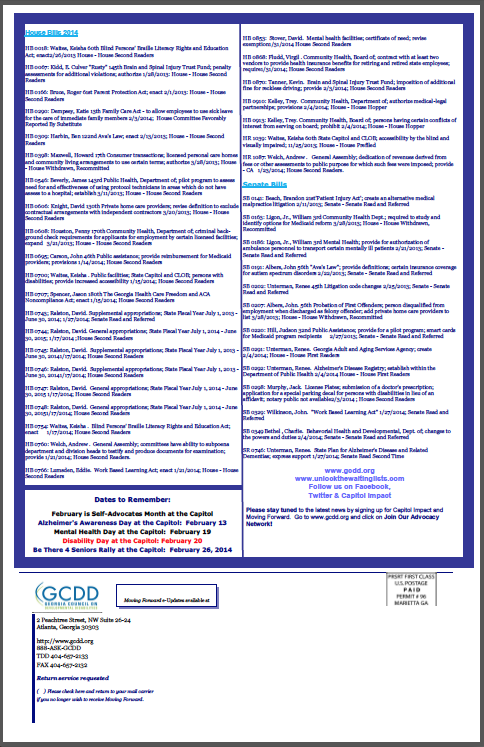 Tags: GCDD, Georgia, Advocacy, Moving Forward, Atlanta