Public Policy for the People: Making a Difference Magazine Spring 2019

2019 Legislative Session a Success for People with Disabilities!
by Hanna Rosenfeld, GCDD Planning & Policy Development Specialist
The 2019 Georgia General Assembly has come to an end. In total, 1,020 bills were introduced during this legislative session. While many of these bills did not pass this year, it is important to remember that 2019 was merely the first year of a two-year legislative cycle. That means that any bill that did not pass this year has an opportunity to pass next year without a reintroduction.
The bills that did pass both the House and the Senate now sit on Governor Brian Kemp's desk. Governor Kemp will have the option to sign the bill into law, do nothing and the bill becomes law or reject the bill through a veto. Governor Kemp also has the power to line-item veto the budget bill, which means he can simply reject certain parts of the bill without rejecting the entire thing. In theory, the House and Senate may override the Governor's veto with a two-thirds vote in each chamber. With a deadline of May 12, it may still be some time before we know which bills Governor Kemp will veto and which he will sign.

GCDD LEGISLATIVE PRIORITIES:
Overall, 2019 was a successful year for the disability community. In particular, the Georgia Council on Developmental Disabilities (GCDD) made significant progress on a number of our Legislative Priorities. While we educated legislators around Medicaid, supported decision-making, caregiver registry expansion and the shortage of direct support professionals, we made concrete progress on three of our Legislative Priorities.

DD Waivers

Governor Kemp included 125 new NOW and COMP waivers for Georgians with intellectual and developmental disabilities. This allocation was included in the final version of the budget, coming in at approximately $4.2 million. In some respects, any increase in funding for NOW and COMP waivers is a win for advocates. Still, we know that with almost 6,000 Georgians waiting for a NOW and COMP waiver, our work is far from over. We must continue to advocate for all Georgians to have the home and community-based services they need to live full and meaningful lives in their communities.
Inclusive Post-Secondary Education (IPSE)

The Senate added $106,500 in state funds to the final version of the Georgia Vocational Rehabilitation Agency's (GVRA) budget for academic transition teachers to work in Georgia's nine inclusive post-secondary education programs. The Senate believes GVRA will be able to draw down additional federal funds, for a total of $500,000 in funding for academic transition teachers. Time will tell if this draw down occurs.
Children's Freedom Initiative

Through his sponsorship of HR 723, Representative David Dreyer (D – Atlanta) raised awareness of children with disabilities stuck in institutional settings and in foster care here in Georgia. Indeed, the resolution went so far as to declare June 22, 2019 as Children's Freedom Initiative Day at the Capitol. We thank him for his leadership in this excellent first step towards ensuring all children have permanent, loving homes.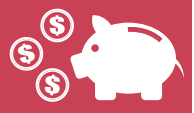 BUDGET HIGHLIGHTS
The House and Senate worked out their differences in Conference Committee on April 28. Remember though, Governor Kemp may line-item veto any part of the budget he does not like. Until he signs the budget bill, we will not know for sure what will be funded.
Department of Behavioral Health & Developmental Disabilities (DBHDD)
$3.7 million to annualize 125 NOW and COMP waivers added in Fiscal Year 2019
$4.2 million to fund 125 new NOW and COMP waivers
$120,417 to fund a provider rate increase of 10% for supported employment for individuals with developmental disabilities
$50,000 in one-time funding for permanent supported housing for individuals with developmental disabilities in Forsyth County and to create a model plan for statewide utilization
$100,000 in existing funds to provide the final installment of the three-year plan for Georgia Options
$7 million to offset a reduction in Medicaid patient revenues to maintain ongoing state hospital system operations
Department of Community Health (DCH)
$737,639 to fund four additional positions, training and associated operations for increased background checks for owners and employees of long-term care facilities pursuant to SB 406 (2018 session)
$513,000 to serve medically fragile children through the Champions for Children program
$401,524 in funds for the second installment of a two-year plan to increase the personal needs allowance for nursing home residents by $5 to meet the $20 per month requirement pursuant to the passage of HB 206 (2017 session)
$330,000 in funds for nursing homes to support enhanced background checks
Department of Human Services (DHS)
$143,991 in funds for the second installment of a two-year plan to increase the personal needs allowance for nursing home residents by $5 to meet the $20 per month requirement pursuant to the passage of HB 206 (2017 session)
$1.3 million to fund 17 new adult protective services caseworkers
$366,752 to fund five new public guardianship caseworkers
$338,802 to sustain options counseling, program outreach and quality assurance for the Aging and Disability Resource Connection (ADRC)
$157,000 for assistive technology to assist older Georgians, to be dispersed to the nine Centers for Independent Living and 12 area agencies on aging at approximately $7,500 per location
$849,951 to fund 50 new Medicaid-aged, blind and disabled eligibility caseworkers
GA Vocational Rehabilitation Agency (GVRA)
$149,733 to expand outreach of independent living for individuals with disabilities in underserved areas
$106,500 to increase funds to provide a state match to deploy academic transition teachers in inclusive post-secondary education (IPSE) programs; and, in collaboration with the Center for Leadership in Disability and GCDD, develop job descriptions and memorandums of understanding that are in compliance with federal statutes, regulations and the terms and conditions of the federal grant fund to be implemented on July 1, 2019
Georgia's partial Medicaid Expansion Bill, SB 106, has already been signed into law by Governor Kemp. SB 106 allows Governor Kemp to submit two waivers to the Centers for Medicare and Medicaid Services (CMS). The first waiver is a Section 1115 Waiver, which would allow Georgia to cover people living up to 100% of the federal poverty level with Medicaid. The second waiver is a Section 1332 Waiver which looks at the private health insurance markets and might seek to reduce costs for consumers through innovative strategies. At this time, no official waiver proposal has been shared. Of note, Section 1115 and 1332 Waivers are different from the HCBS Waivers (NOW, COMP, SOURCE, CCSP, & ICWP) we often speak about in the disability community. Additionally, SB 106 includes a time limit on waiver submission which means that should a future Governor wish to submit an additional waiver, new legislation would be needed.
There may come a time in the future though when we need your help to make sure any waiver proposal takes the needs of Georgians with disabilities into account.
SIGNED - HB 324: Low THC Oil Access in Georgia
Rep. Micah Gravley (R – Douglasville)
As you may recall, the legislature has previously allowed Georgians with specific medical conditions to use low THC oil, a form of medical cannabis. However, there was previously no legal method by which qualifying people could obtain the low THC oil. HB 324 creates a system for in-state cultivation and distribution of low THC oil to those eligible. The University of Georgia and Fort Valley State University are charged with creating medical marijuana programs. Additionally, up to six licenses will be granted to private companies interested in production and distribution. It is important to note that HB 324 only applies to a very specific population using low THC oil. For the vast majority of Georgians, marijuana remains illegal.
SIGNED - HB 316: Voting System Update
Rep. Barry Fleming (R – Harlem)
One of the more spirited issues debated this legislative session, HB 316 updates Georgia's voting system. Specifically, it states that elections in Georgia will use, "scanning ballots marked by electronic ballot markers" and counted "using ballot scanners." Additionally, the "electronic ballot markers" will provide voters with, "paper ballots which are marked with the elector's choices in a format readable by the elector" – essentially a receipt. Further, the bill refines the process by which voters are removed from the voting rolls, as well as regulating voting location closures in advance of an election.
SIGNED - HB 79: Parental Rights for Parents who are Blind
Rep. Carl Wayne Gilliard (D – Garden City)
Spearheaded bythe National Federation of the Blind, Georgia Affiliate, HB 79 seeks to diminish the discrimination parents who are blind face when raising children, specifically as it relates to, "the courts, the Department of Human Services, or a child-placing agency in matters relating to child custody, guardianship, foster care, visitation, placement or adoption." Additionally, provisions are included for supportive parenting services meant to, "assist a blind parent or prospective blind parent in the effective use of nonvisual techniques and other alternative methods to enable the parent or prospective blind parent to successfully discharge parental responsibilities."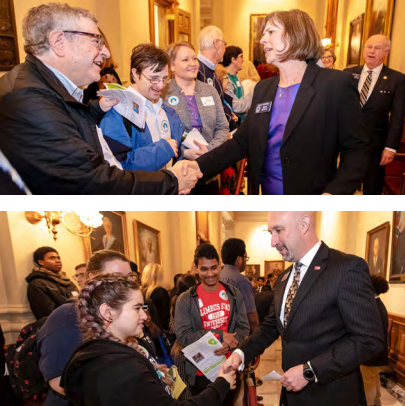 Several Georgia legislators met with disability advocates in the halls of the State Capitol during the 2019 legislative session. Advocates were participating in this year's GCDD Advocacy Days training sessions.
VETOED - SB 15: School Safety
Sen. John Albers (R – Roswell)
SB 15 looks at improving safety in Georgia's schools through updated safety plans and drills, as well as routine threat assessments. Additionally, the Georgia Information Sharing and Analysis Center is charged with creating a smartphone app for reporting suspicious activity in schools. As schools in Georgia are largely controlled at the local level, it is important that parents of children with disabilities show up to local forums and meetings to ensure the needs of students with disabilities are considered as schools seek to improve safety.
SIGNED - SB 2 / SB 17: Internet Access in Rural GA
Sen. Steve Gooch (R – Dahlonega)
SB 2 and SB 17 allow electric membership corporations and telephone cooperatives to provide internet to their customers. As these companies already operate in rural Georgia, the legislature hopes this change will allow for broadband services to finally blanket Georgia's rural communities. It is believed that broadband access will improve these communities' desirability as business locations, as well as improve local healthcare services and educational opportunities.
SIGNED - SB 48: Mandatory Dyslexia Screening in Schools
Sen. P. K. Martin IV (R – Lawrenceville )
SB 48 requires that all public schools screen their students for dyslexia starting in kindergarten. Implementation is not required until the fall of 2024. In addition to screening, the bill also makes provisions for increased teacher training. Of note, the screening mandate will not go into effect unless the Georgia General Assembly approves funding for the program.
Want to read the whole law? Visit the website www.legis.ga.gov and use the bill search feature in the upper left corner on the page.
Looking Ahead...
With the legislative session behind us, you may be thinking all the hard work is done. You would be wrong though! The work of an advocate is never over.
First, as this was year one of a two-year legislative cycle, any bill that did not pass into law still has a chance to become law next year. For example, SR 193 and SR 194 look at moving the oversight of NOW and COMP waivers to the DCH, while HB 426 looks at increasing punishment for hate crimes (crimes based on bias or prejudice). That means if you have strong feelings about a bill, good or bad, now is the time to make sure your Senator and Representative know how you feel. With the summer and fall ahead of you, you have no excuse not to take a few minutes and call your legislators or write them a letter.
Second, if you have not met your Senator or Representative yet, try to arrange a meeting with them this summer. It is never too early to start building a relationship with your elected officials. If your legislator gets to know you in the quiet months of summer, they will be more likely to answer your email or call during the hectic months of the legislative session. Invite them to coffee or to an event your organization is holding. The sky is the limit!
To find your legislator, simply visit www.openstates.org.
To read more in Making a Difference magazine, see below:
Download the pdf version of the Spring 2019 issue.
Download the large print version of the Spring 2019 issue.
---
Tags: Advocacy, Making a Difference, public policy