Who We Are: Re-Cycle Macon is a program provided by Centenary Community Ministries that receives donations of bicycles and gives them to people in need of transportation. The Georgia Council on Developmental Disabilities (GCDD) supports the program as a Real Communities partner.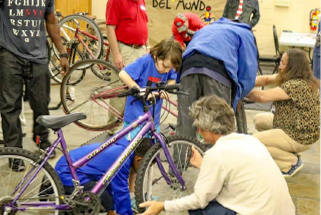 Volunteers help others fix bicycles.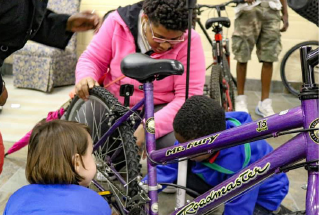 Re-Cycle Macon provides adults the chance to earn a bicycle.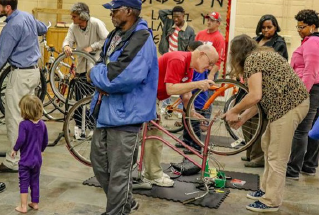 Meetups offer inclusive community gatherings.
What We Do: The goals of this program are to:
Provide adults in need of transportation the opportunity to earn a bicycle.
Provide the space, tools, and guidance needed on a monthly basis at our co-ops for anyone to work on their bicycle, especially those who depend on a bicycle for transportation.
Offer service opportunities at our co-ops.
Most importantly, we seek to build inclusive and diverse community through our co-ops and meals.
Nothing is required to attend and to share a meal. All are welcome.