The 'Olmstead Legacy' at 20: Some win, but many still wait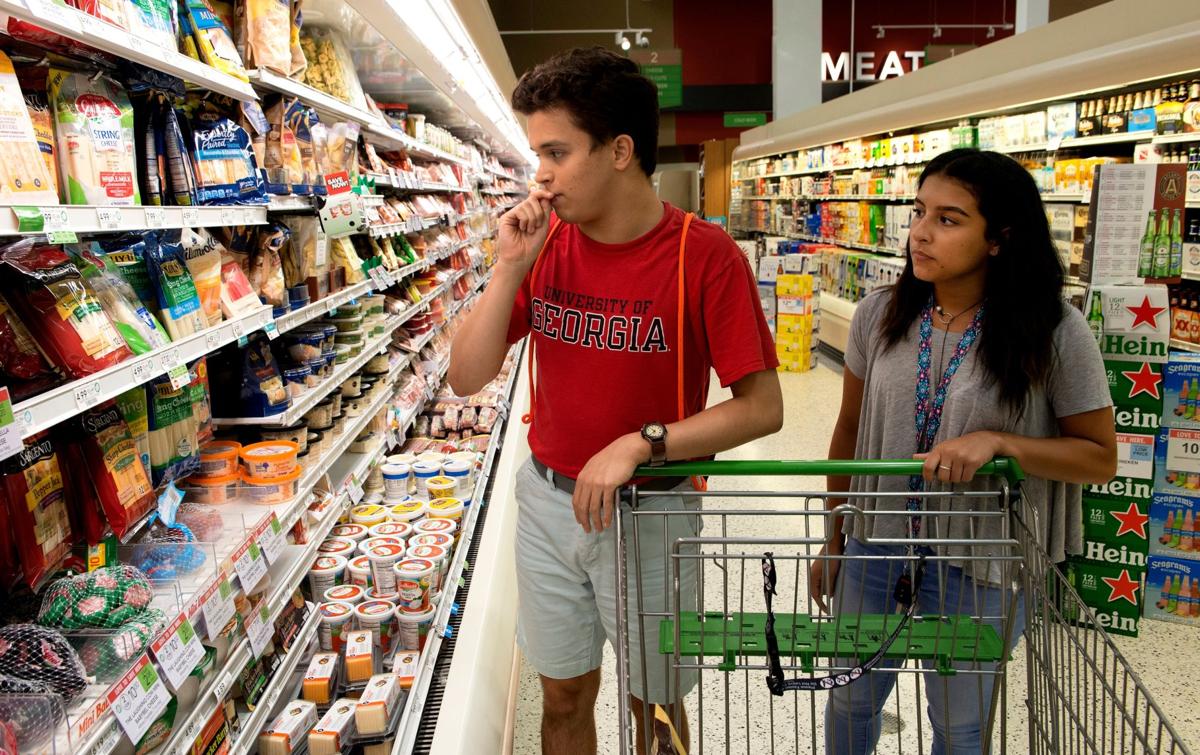 Eric Ruiz shops for cheese at a nearby Publix with Sofia Morales, a direct support professional who takes him into the community every week and helps him navigate society.June 21, 2019 (Atlanta, GA) For two hours a day, four days each week, Eric Ruiz opens the front door of his family's Marietta home to greet Sofia Morales, Nico Rousseau or Camila Marin. They're all direct support professionals who share the common goal to help the young man navigate life and be a greater part of the east Cobb community.
Ruiz, 22, a self-described "Dinosaur Master," has autism. He looks forward to every afternoon's venture with his support person of the day, funded by a Medicaid waiver that provides a richer and more meaningful life for individuals with a developmental, mental health or physical disability.
Morales typically helps Ruiz shop at the local market and coaches him to prepare one of his favorite meals on her assigned days.
"He likes going to the pool or the YMCA, and he loves hiking up Kennesaw Mountain," she said. "We just get out into the community and go places. He used to be closed off and didn't want to talk much, but now he talks to anyone he meets wherever we go, usually about dinosaurs. He's happy and smiles a lot now, just being around other people and being accepted."
Marin takes him to local parks as often as possible.
"We take our mats and do yoga, we run a lot and we spin around on the playground equipment," she said. "He's become a lot more social since we started working with him and he's much more engaging."
Rousseau teaches Ruiz a few basics in handyman and woodworking skills, and the two of them take long walks on area nature trails. Rousseau and Ruiz make frequent hikes to a busy intersection near his home, to practice crossing the multi-lane street safely.
"At first I had to prompt him to watch the traffic signal and make eye contact with drivers," Rousseau explained. "Now, he routinely watches for turning cars and the signals, and he's doing very well."
Their crosswalk of choice leads to a shopping center with a grocery store that sells Ruiz's favorite cookies.
"Eric knows what he likes, but we're still working on his money skills," he said.
Without the waiver and the individual supports it funds, Ruiz would likely be isolated in his bedroom for most of the day while his parents work, watching his favorite Disney movies, using his iPad and playing with his collection of plastic dinosaur models.
"It wouldn't be much of a life," notes his father, Carlos Ruiz. "There wouldn't be much social interaction. I think without the supports and special education he's had since he was 3, Eric wouldn't have made as much progress. My wife and I know of children in Central America who didn't get the services Eric did, and they seem like they're frozen at 5 years old."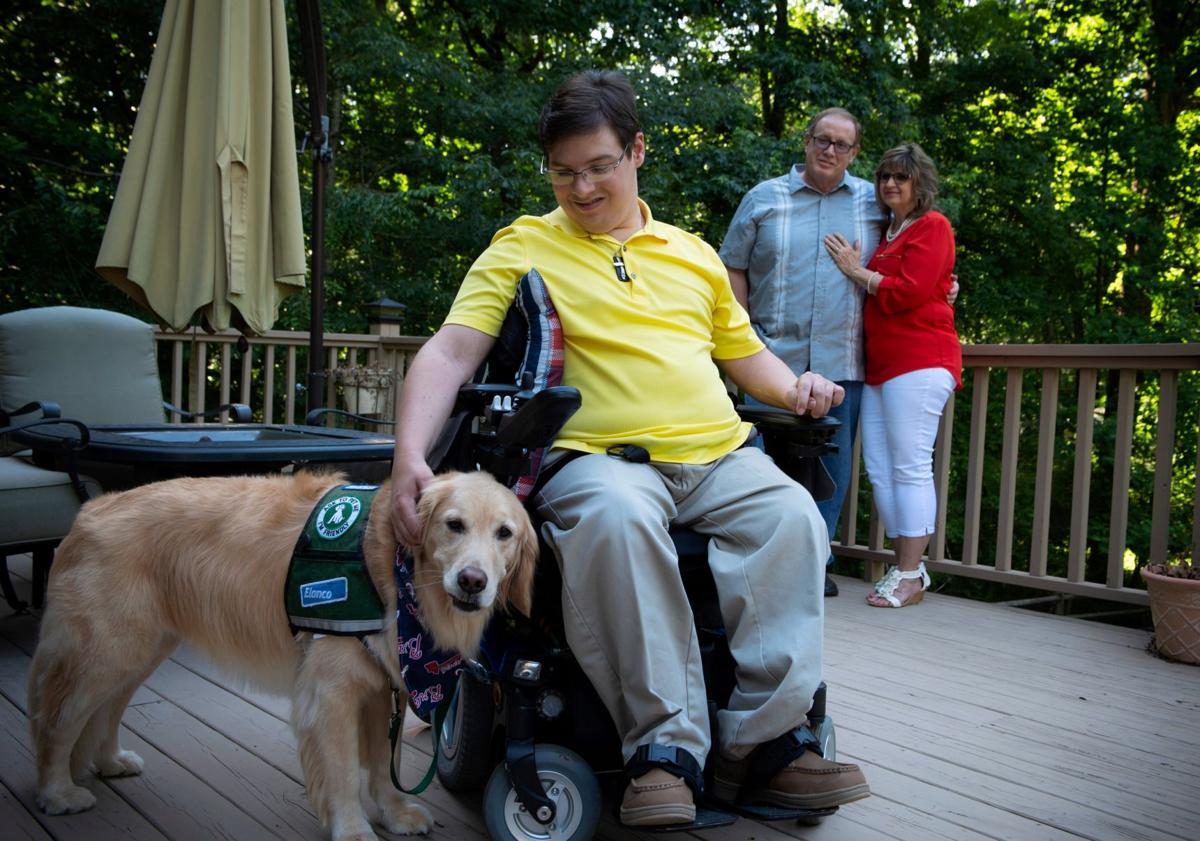 Tim Beighley with his service dog, Ringer and his parents, Doug and Angie Beighley, at their Marietta home.
A move that might not have been
A few miles away, Tim Beighley looks forward to the day he can leave his parents' home and move into his first apartment.
But 'leaving the nest' could have been a daunting challenge for this Cobb County resident because of an intercranial hemorrhage that makes a wheelchair and personal care support essential to his daily life.
Beighley hopes to relocate to an independent living apartment complex near Johns Creek that was specifically designed for individuals with physical disabilities. It's an option that might not exist, were it not for a U.S. Supreme Court decision two decades ago that dramatically brightened the future for Ruiz, Beighley and thousands of others in the nation with physical, mental health or developmental disabilities.
On June 22, 1999, the U.S. Supreme Court ruled in L.C. v. Olmstead that people with disabilities have a right to live in the community, and government has a responsibility to provide supports to make that possible.
"The Olmstead decision has been used to protect home attendant programs and get people out of nursing homes and other institutions," notes Mark Johnson, an Atlanta disability rights advocate and activist.
For Atlanta Legal Aid attorney Susan Goico, "Life in the community is a civil right for people with disabilities that so many people don't know they have."
The decision was based on the Americans with Disabilities Act of 1990 and ruled that people with disabilities have a qualified right to receive state-funded supports and services in the community, rather than in institutions. It has been deemed the most important civil rights decision for people with disabilities in the nation's history, according to disability rights advocates.
Had the Supreme Court ruled differently, "I really don't know where I would be," Beighley said. "I wouldn't have the independence I do today without the advocates out there pushing for freedoms."
Beighley was born with cerebral palsy and hydrocephalus, a fused spine because of scoliosis and spastic quadriplegia. He has a Medicaid waiver that funds five hours of daily in-home support.
"They help me shower and get dressed in the morning, and help me with breakfast," he said.
He counts on his parents to help with his physical needs the rest of the day, including transferring to a 'stander' device that allows him to stand erect with support for an hour every day. A ceiling-mounted lift is used to transfer him to and from his bed.
"I can leave the house to go shopping if he's alone, but I'm never far away in case Tim needs me for something," notes his mother, Angie.
Doug Beighley, Tim's father, said he has good insurance from his employer, which had helped a lot.
"Without the Medicaid supports, he would probably still have lived at home, but it would have been much more difficult," Doug Beighley said.
Tim is served under a limited Elderly and Disabled Waiver that helps frail older adults and individuals with disabilities remain in their own homes as an alternative to living in nursing homes.
"It works fine as long as Tim lives with us, but it's not adequate for him to live on his own. He will need more support hours every day to help him have any kind of independent life," Doug Beighley said. "We're on the waiting list for an independent care waiver, hoping it comes through in time for Tim's move."
The ICWP waiver provides increased funds for additional hours of personal care, medical equipment and transportation into the community, he said.
Tim Beighley joins more than 6,000 other Georgia residents with disabilities who are on the list for various Medicaid waivers. Many of them wait years for services because of state funding budgets. Georgia ranks 45th nationally in monies allocated for the disability population, according to recent reports.
If Olmstead had never happened, both the Beighley and Ruiz families are certain their sons' options would have been significantly limited.
"More than likely, Tim would be in an institution or a nursing home," said Doug Beighley "It's every parent's worst fear and it's what keeps us awake at night," said Tim Beighley's mother, Angie. "What happens to our disabled children when we're gone?"
Carlos Ruiz voiced the same worry.
"Institutional bias" slow to evolve
"We used to talk a lot of institutional bias, meaning the state allocated its resources in favor of institutional settings," notes Eric Jacobson, executive director of the Georgia Council on Developmental Disabilities, a state agency that monitors and helps shape public policy as advocates for Georgia's disability population.
"Olmstead is changing that, and the decision is a means to end that bias," Jacobson said. Twenty years after Olmstead, there are only about 200 people with intellectual disabilities left in Georgia's state-run facilities, down from 2,000 in the 1990s.
"We still have work to do to get all people with disabilities out of institutions and back in their homes and communities. Elected officials need to prioritize people waiting to receive services in their communities, those on the waiting list for waivers, in the same way they prioritize getting people out of institutions," he said. "They can — and should — focus on both."
As community services improve, fewer people enter institutions and people in institutions can successfully transition back to the community, resulting in institutions downsizing or closing, according to Dawn Alford, public policy director for GCDD.
In the 1800s, states throughout the country built large asylums for people with mental health issues, intellectual challenges and other disabilities. Central State Hospital in Milledgeville was one of the nation's largest. By the early 1900s, residents were often ignored, under-treated and "warehoused" as the institutions became overcrowded, historians note. Psychiatric institutions continued to grow until the 1960s, when public policy began drifting away from institutionalization.
In the mid-20th century, nursing facilities became the primary places for the elderly and people with physical disabilities. They grew with the creation of Medicaid and Medicare in the 1960s. Nursing home populations grew rapidly throughout the 1970s and '80s.
In 1995, two Georgia women with intellectual and mental health challenges who had been in and out of institutions for much of their lives sought to leave the state hospitals and live in their own homes, where they could receive needed services. State disability officials declined, citing a lack of resources or capacity to provide services outside the institutions.
"That was because the state was choosing to spend virtually all of its resources for people with disabilities on state-operated institutions, instead of providing services in the community," Jacobson said.
Attorneys from the Atlanta Legal Aid Society sued the state on their behalf, and the case eventually ended up before the U.S. Supreme Court.
The justices wrote: "Unjustified segregation of persons with disabilities constitutes discrimination in violation of the Title II of the Americans with Disabilities Act," and mandated states to provide community-based services to people with disabilities when services are appropriate and can be reasonably accommodated.
The latest State of the State information available says Georgia is currently 45th in total spending, up from 47th two years ago, Jacobson noted.
"While we've moved up two spots, there is still a lot of work to be done. The reason we have not moved up higher is because legislators don't allocate the resources needed. The Legislature has been more focused on moving people out of institutions over funding the waiting list," Jacobson said.
Without waiver funding, thousands of people with disabilities languish at home with little to do but watch television, and their families are exhausted and financially stressed, several disability advocates note.
"While we've had a lot of dramatic changes since Olmstead, we have a long way to go. States are obligated to provide services. They're beginning to see that now," said Jennifer Mathis, deputy legal director of the Bazelon Center for Mental Health Law, a national nonprofit legal advocacy organization in Washington, D.C.
Both Eric Ruiz and Tim Beighley would like to find jobs and become more a part of their communities. Their parents look forward to easing anxieties about their children's futures.
For any parent of a child with a disability, "it's about them becoming independent, with some degree of support," Carlos Ruiz said. "The question is, how do they get there? It would be a major milestone if Eric could learn how to drive, but he could get distracted fairly quickly and he's not interested. So he needs transportation. I would like to get him to learn in some type of programming at a community college nearby when he's ready. Maybe he could learn to do quality control for integrated chips or testing software at a business, things that are repetitive. But we will always be supporting our son. Retirement will not exist for us," he said.
Carlos Ruiz said his other fear is people not accepting him.
"Eric is vulnerable to exploitation or manipulation. People could take advantage of him since he doesn't understand money and he doesn't understand making change. I see him in a supported living place when he's older, someplace where he will be safe and productive and a part of society.
"Without a doubt, Eric and a lot of others will have a whole lot richer life because of Olmstead. Without it, and without the hope of a waiver, it would be a dark day for every family with a kid with a disability," Carlos Ruiz said. "I think if legislators had a son or daughter with a disability, then maybe they would understand how important these waivers are."
By Robin Rayne, MDJ contributor