Committee recommends additional guidelines for emotional support, service animals
by Shaddi Abusaid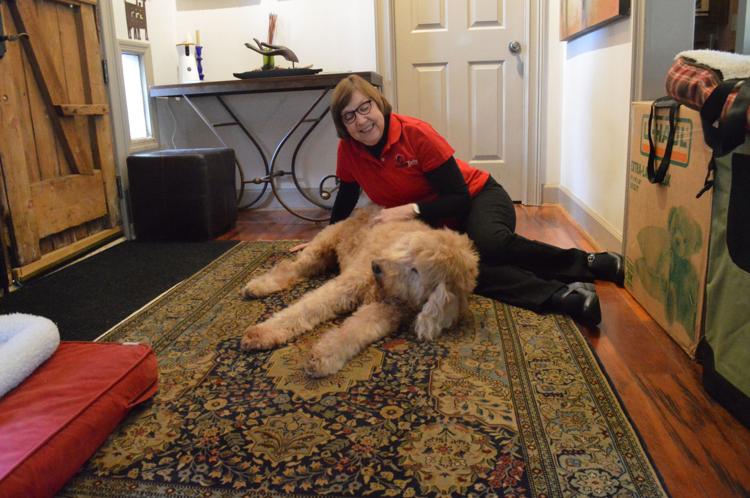 Sen. Kay Kirpatrick, R-East Cobb, pets Dobie, her Golden Doodle who served as a therapy dog in his younger years.February 1, 2019, EAST COBB — As America grapples with whether a Pennsylvania man's 5-foot alligator should be considered an emotional support animal, a group of state lawmakers advise creating guidelines to determine who can bring their animals into restaurants, grocery stores or other public places.
Sen. Kay Kirkpatrick, R-east Cobb, recently served on a Senate Study Committee tasked with researching service animals and determining whether legislation was necessary to keep some from abusing state and federal laws designed to assist others by bringing their "fake service animals" everywhere they go.
"The biggest issue is confusion between what a service dog is, what an emotional support dog is and what they're allowed to do," said Kirkpatrick, as she played with her 14-year-old Golden Doodle, Dobie, a trained therapy dog who comforted children and families staying at the Ronald McDonald House in his younger years.
According to Kirkpatrick, some pet owners buy their dogs service animal or emotional support vests online that often come with certificates signed by "quasi-medical professionals."
"Then they will pretend their dog is a service dog and take them places nothing but a service dog can go," she said.
Dobie, she said, is not allowed to go to restaurants or grocery stores, and can only wear his vest publicly when he is volunteering.
But many without disabilities regularly take advantage of ADA regulations, whether they do it knowingly or not. "I think most people are trying to do the right thing. They just don't understand the law," Kirkpatrick said. "And then there are a few people who are always trying to scam the system … I think some people don't want to buy their dog an airline ticket and some people want to be able to take their dog to a restaurant. "
Suspecting business owners are only allowed to ask pet handlers two questions: whether their dog is required because of a disability and what task their dog is trained to perform.
"You can't ask what the disability is because ADA laws apply to physical and mental (disabilities)," Kirkpatrick said. "But the confusion comes in with emotional support animals because they aren't covered under the Americans with Disabilities Act, but service animals are."
Part of the confusion discussed in the study committee is that the ADA, the Fair Housing Act, the Air Carrier Access Act and state law often have different regulations.
"The rules are all different," she said. "And we worried there would be unintended consequences if we made it criminal to misrepresent your animal because people might not even know they're breaking the law."
Dawn Alford, public policy director of the Georgia Council on Developmental Disabilities, recommended that state law mirror federal ADA law, according to the committee's final report, and that educational information be created and made available to consumers, property owners, and business operators.
She also suggested that the committee consider the unintended consequences that could arise from any attempt to criminalize the misrepresentation of "fake" service animals.
Kirkpatrick said the rules governing the use of service and emotional support animals was more complicated than the committee could have imagined.
She also some committee members would likely meet again to plan an educational campaign for trade groups and members of the general public who might have questions about what's legal and what isn't.
"What we wanted to do was to make it illegal to misrepresent your pet as a service animal if it isn't, but after we dug into more and more and found out how confusing it is, we decided we better set a level playing field for everybody first. That gives you more ability to reign people in," she said. "If you educate people and they understand the law, then maybe you do some consequences."
The original article ran in the Marietta Daily Journal Online on February 1, 2019.