AROUND THE STATE: Olmstead Exhibit Opens in Atlanta
Picturing Justice, an annual photography exhibition hosted by Atlanta Legal Aid (ALA), opened this month and aims to use photography to illuminate and create empathy for stories of lives improved by the work of social justice advocates.
Every year, the exhibition features four to five photographers and one commissioned work along the themes of social justice and around ALA's work.
This year, Picturing Justice commissioned a special exhibition documenting and exploring the lives of ALA clients who have been impacted by the US Supreme Court's famous 1999 Olmstead v. L.C. and E.W. decision.
Olmstead, celebrating its 20th anniversary this year, has its roots in Atlanta. The case was filed by ALA was on behalf of Lois Curtis and Elaine Wilson, two women with intellectual disabilities who had been isolated in psychiatric hospitals for many years.
The legal agency argued that these women had the right to live in the community with appropriate supports. The US Supreme Court found that under the Americans with Disabilities Act, it would be unlawful for the state to discriminate against a person based on his or her disability and that services must be provided in the community for people with disabilities. This ruling became known as the Olmstead decision.
Angie Tacker, director of annual giving and communications at ALA, shared that the exhibit is meant to be honest and authentic. "We wanted to share the whole story about Olmstead – not just success stories of those individuals living in the community, but also those clients who we couldn't help or are still in the process of helping."
ALA commissioned Robin Rayne, an Atlanta-based photojournalist and documentary producer for the Institute on Human Development and Disability at the University of Georgia.
The special exhibit is called "Olmstead at 20: Promises Kept, Promises Unfulfilled," and features a photo essay created by Rayne and Atlanta author Robin McDonald. The photo essay explores how the decision has and is impacting clients of Atlanta Legal Aid.
"Olmstead changed the landscape legally for people with disabilities. A lot of progress has been made, but we have a long way to go," said Rayne. "I want people to be able to see the personal side of what those lives are like."
The 2019 Picturing Justice exhibit opened on October 16 at Atlanta Legal Aid at 54 Ellis Street and will run until the end of November. It is free and open to the public.
Atlanta Legal Aid Society presents Picturing Justice curated by Atlanta Celebrates Photography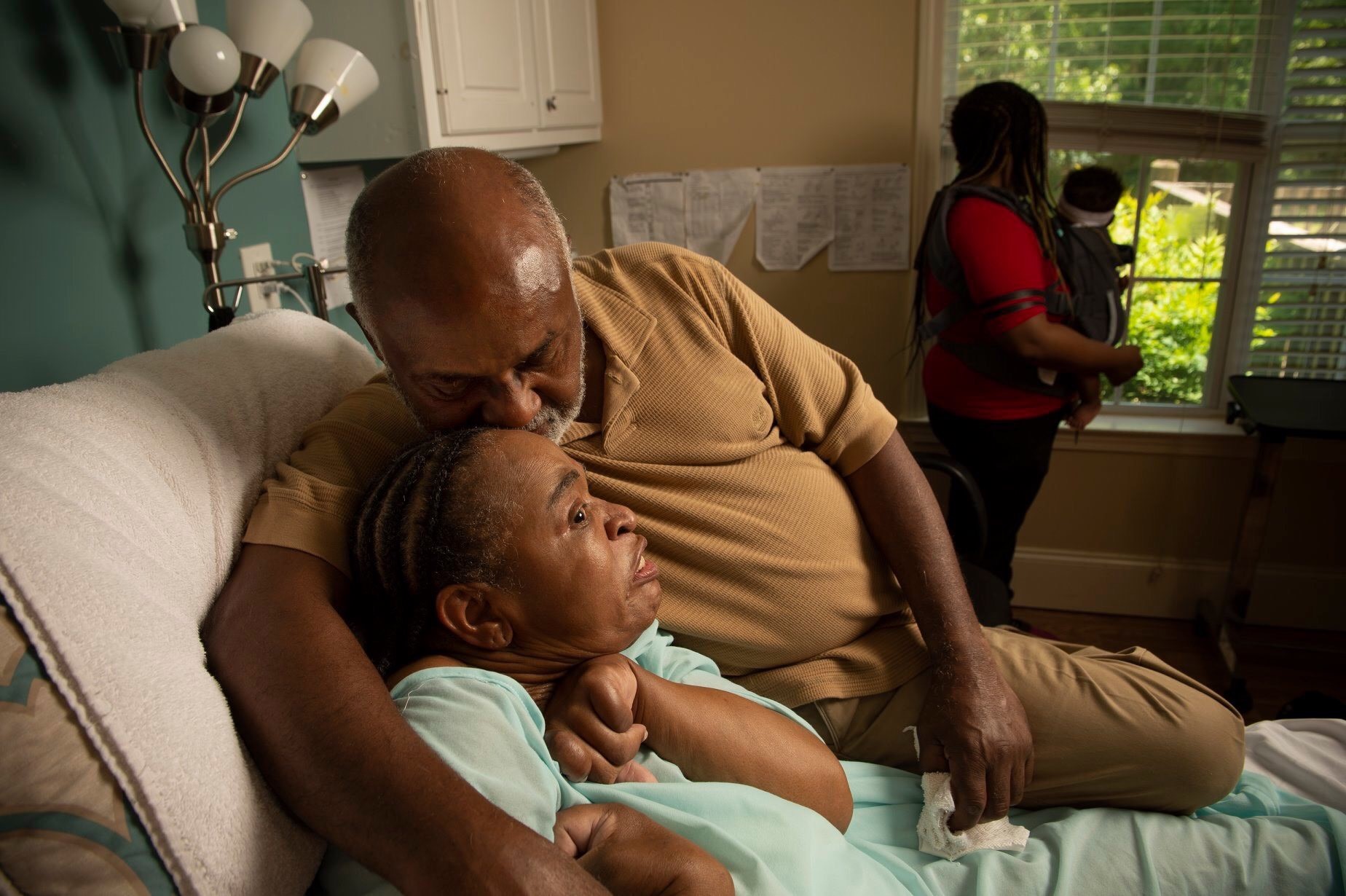 Nafeesah Shaheed was a vibrant social worker with advanced degrees from Columbia University and Hunter College in New York. After a medical accident catastrophically starved her brain of oxygen, leaving her bedridden and non-verbal, she required around-the-clock care. At growing odds with nursing home personnel who parked the formerly vibrant woman in a wheelchair and left her unattended for hours, her husband and her eight children resolved to bring her home. They succeeded with the help of lawyers at the Atlanta Legal Aid Society and a landmark U.S. Supreme Court ruling that Legal Aid originated. Olmstead vs. L.C. and E.W. marks its 20th anniversary this year.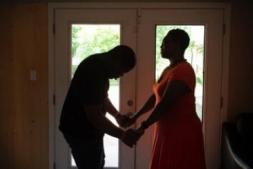 Mikaiah Epps, 21, holds his mother's hands during their visit time in a sparsely-furnished crisis home. After an altercation with his stepfather, Epps had been confined to a DeKalb County jail. With no one willing or able to post bail, he was in custody for nearly a year.
The state's developmental disability staff denied his Medicaid waiver, insisting that mental illness, not an intellectual disability, was Epps' primary problem. "In Georgia, we have a hard time serving people who have both mental illness and developmental disabilities," said Susan Walker Goico, director of Atlanta Legal Aid's Disability Integration Project. "The two systems point to each other and say, 'He's not mine, he's yours.' That's what is happening here." Epps was forced to live in the crisis home with little supports or activities, while waiting for a more permanent home.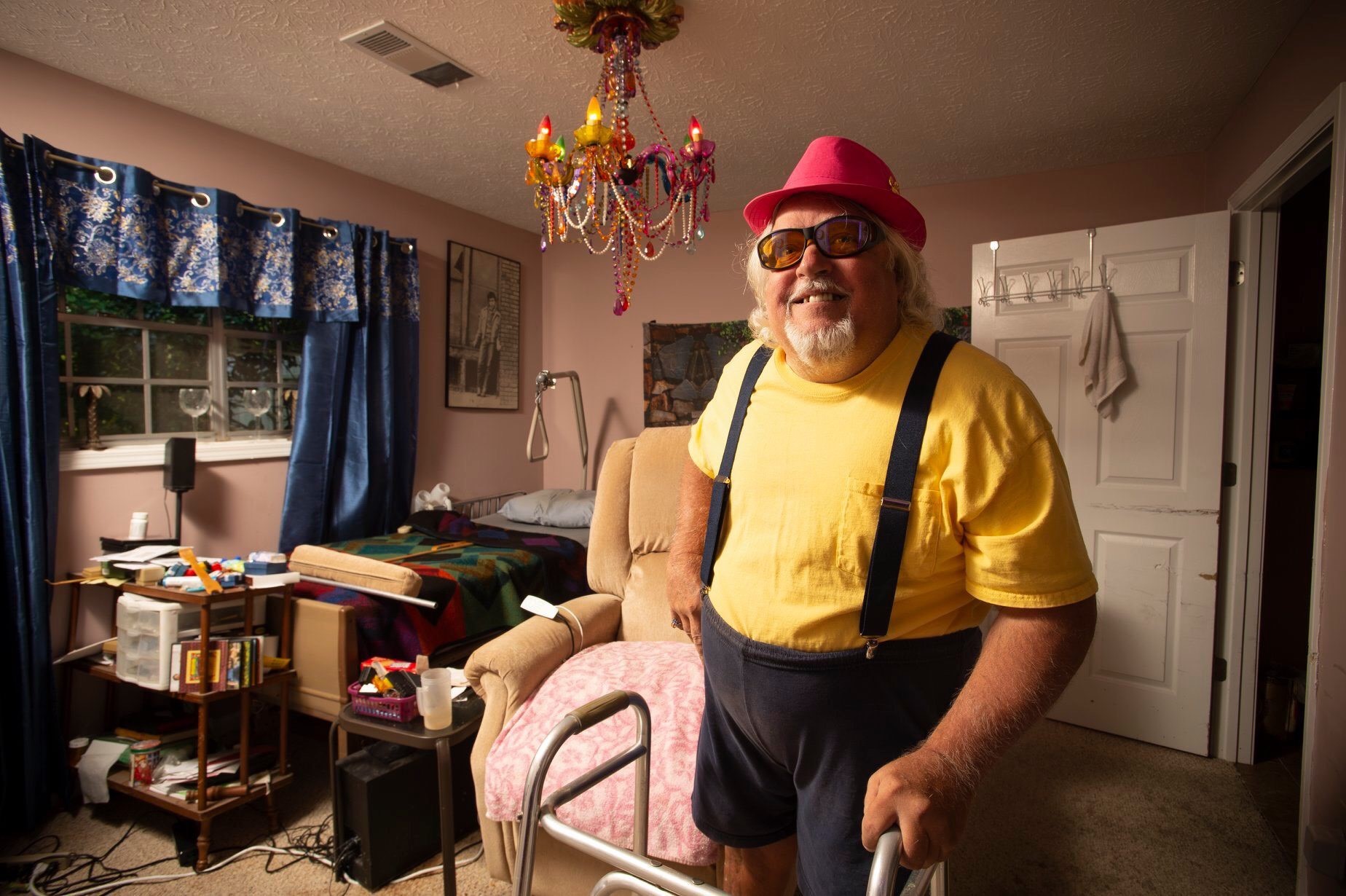 Charles Anderson, 65, confronted a medical crisis that stripped him of independence and confined him to a nursing home. Then he met Legal Aid lawyer Toni Pastore, manager of Legal Aid's Disability Integration Project. Pastore helped Anderson qualify for community support services, kept his spirits up while he remained on the waiting list, and alternately prodded and encouraged him to believe that he could make it on his own. "I always knew in my heart I would leave," said Anderson, who now lives in a Christian City duplex. But without Pastore's help, he didn't know how. "A new me has emerged," he said. I wasn't going to be seen for the wheelchair. I would be seen for me. And I was going to be okay."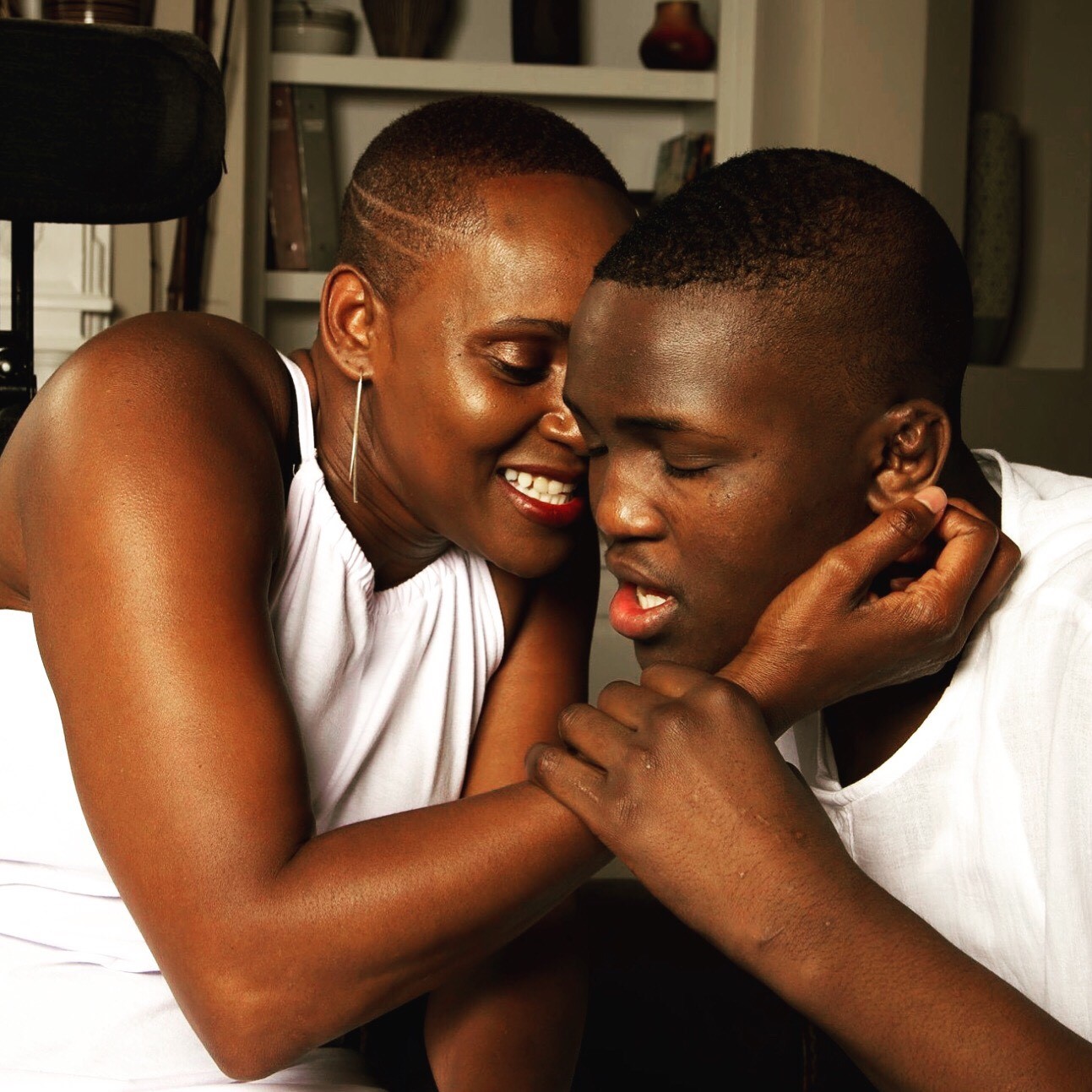 Tykeem Valentine, 22, has autism that has left him unable to speak and, as a teenager, made him prone to extreme behaviors that cycled him in and out of hospital emergency rooms. Tykeem's mother, Deborah Valentine, has multiple sclerosis and faces her own physical challenges. But with help from the Comprehensive Supports Medicaid waiver, Tykeem now lives in a group home with around-the-clock support and is able to visit regularly with his mom.
"If you have a child with a disability, you are constantly thinking, 'How is this child going to manage after I'm gone?,'" said Susan Goico, managing attorney of Atlanta Legal Aid's Disability Integration Project. "We as a society need to help these families so it is not such a weight. We need to make sure these adult children are taken care of. It makes such a difference for families so they are not terrified about what's going to happen to their child."
Captions and their enclosed language are not those of GCDD, but of the exhibit author.
Commemorating Olmstead's 20th Anniversary
On August 8 – 9, the Georgia State University College of Law hosted Olmstead at Twenty: The Past and Future of Community Integration, a conference focused on the state of compliance and the path forward. Read more about the event in our September GCDD e-news.
To read more in Making a Difference magazine, see below:
Download the pdf version of the Fall 2019 issue.
Download the large print version of the Fall 2019 issue.
---