GCDD IMPACT: Project SEARCH Provides Path to Employment
by H. M. Cauley
While the issues facing people with developmental disabilities are many, a few key areas have the most impact on the quality of life. Five of those specific areas – education, employment, formal and informal supports, real communities and self-advocacy – comprise the cornerstone of the Georgia Council on Developmental Disabilities' current five-year plan, as laid out by Executive Director Eric Jacobson.
"People told us about the need for work; they told us about the need for school systems that are more responsive," he said. "This population of kids coming out of school today is not the same population that came out in previous years. The expectations are higher."
Based on that information, GCDD has education and employment as priorities in their strategic plan. But it can't happen in a vacuum. It requires the determination, talent and energy of partners who can provide the educational and occupational skills that will give young adults the chance to live independent and productive lives.
One of the partners working toward that end is Project SEARCH, a statewide initiative that launched in the early 2000s. The idea came from a similar program created in the 1990s in Ohio, where Erin Riehle, an emergency room director of a children's hospital, had a difficult time finding people to work in entry-level positions. She worked with the county's board of developmental disability services and local career campuses to fill the jobs and to create a model that could be replicated in other work environments.
Riehle has since become an authority in developing job opportunities for people with disabilities, and her model program became Project SEARCH.
Working closely with Riehle was Susie Rutkowski, now the co-director and education specialist for Project SEARCH and an active supporter of the organization's work in Georgia, where the program operates from 25 sites, including the three newest at Middle Georgia State University in Bibb County, Woodbridge Industries in DeKalb County and the Wimberly Center in Barrow County. Beyond the Peach State, Project SEARCH has grown to more than 600 programs in 48 states and nine countries.
"Project SEARCH has been an outstanding means of skill training for work with great success," said Bonnie Seery, Ph.D., who coordinates the Georgia program. "Interns are taught and experience work skills in the work setting five days a week for the school year."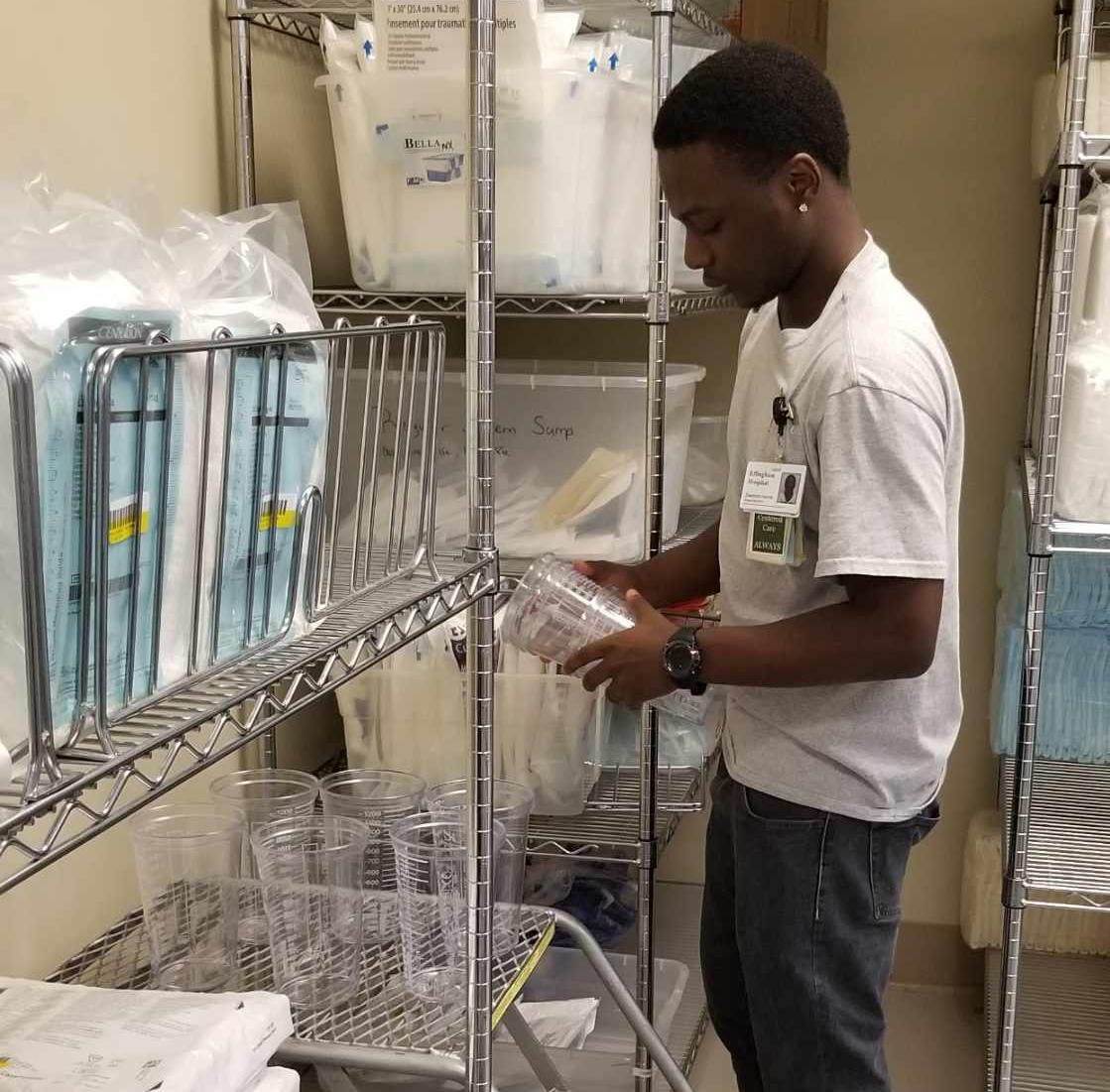 Zaebrion Herron, a Project SEARCH intern, practices the work skills needed in materials management in his job at a participating medical center. With the goal of combining classroom education with on-the-job training, Project SEARCH has paired with Georgia companies such as Fifth Third Bank, Embassy Suites and Emory Midtown Hospital, to name a few.
The program emphasizes skills related to job placement and can be as varied as unloading trucks, stocking shelves, filing, assembling furniture, leading activities and exercises and serving food. Student interns usually transition to permanent employment: Project SEARCH in Georgia has hiring rates hovering around 75% in positions that average 25 hours a week and pay approximately $9.61 an hour.
But the curriculum goes well beyond that focus.
"I'm also teaching soft skills, how to write resumes and how to handle job interviews," said Shanna Overstreet, the Project SEARCH instructor in Coffee County who is based at the county's regional medical center in Douglas. "There's also a finance portion as well."
The Coffee County project is now in its 11th year and can work with eight 18- to 22-year-olds. This year, Overstreet is working with four students – a number she'd like to increase.
In Effingham County, Project SEARCH was started in the fall of 2012 and based at the Effingham Health System in Springfield. Instructor Jennifer Spitko usually has between seven and 10 students, including some from nearby Screven County that does not have a Project SEARCH program in place. Students work in various hospital settings, from the operating and physical therapy rooms to the human resources and business offices.
And every month, the students participate in an employment planning meeting that involves Project SEARCH, Vocational Rehabilitation and EmployAbility, a supported employment agency based in Savannah. They all work together to develop a customized employment plan factoring the student's interests, strengths and personal goals.
As a result, Effingham County's Project SEARCH graduates are now working in the community at local companies, restaurants, government agencies and more. Two of the graduates were also hired back into the hospital's information technology department.
Overstreet, at Coffee County, believes that one of the successful parts of this program is its focus on self-advocacy. "We teach them how to advocate for themselves, specifically in an employment setting," she shared. "They learn how to communicate and advocate for what they need to be successful at their job."
In her experience, Overstreet has seen employers enjoy working with the interns and treat them like they are a part of the team. In turn, her students' confidence, social skills and capabilities rise - making the case for the push towards competitive, integrated employment nationally.
"Competitive employment is the goal and the rule," said Seery. "Project SEARCH changes expectations, changes communities, changes families and, most of all, changes lives."
At the 2019 Project SEARCH Annual Conference in Anaheim, CA, 192 program sites from 37 states and 4 countries were recognized for achieving 70% to 100% employment for their 2018 program graduates.
Six locations achieved 100% employment for their graduates in Georgia.
Project SEARCH Locations in Georgia
Archbold Medical Center

Candler Hospital
Cartersville Medical Center
CHI Memorial Hospital
Coffee County Regional Medical Center

Colquitt Regional Medical Center

Effingham Health Systems
Emory Midtown Hospital/Emory Healthcare

Grady General Hospital in Cairo

Hamilton Medical Center

Memorial Satilla Health

Middle Georgia State University & Bibb County
Navicent Health
North Fulton Hospital
Northeast Georgia Health System
Phoebe Putney Memorial Hospital
Piedmont Fayette Hospital
Redmond Regional Medical Center

Shaw Industries

St. Joseph's Hospital
Georgia Southern University-Armstrong Campus

TSYS

University of West Georgia
Wimberly Center & Barrow County
Woodbridge Industries & DeKalb County
Locations in yellow achieved 100% Employment in 2018
For more about this initiative, visit projectsearch.us or the Georgia Council on Developmental Disabilities.
Focus on Outcomes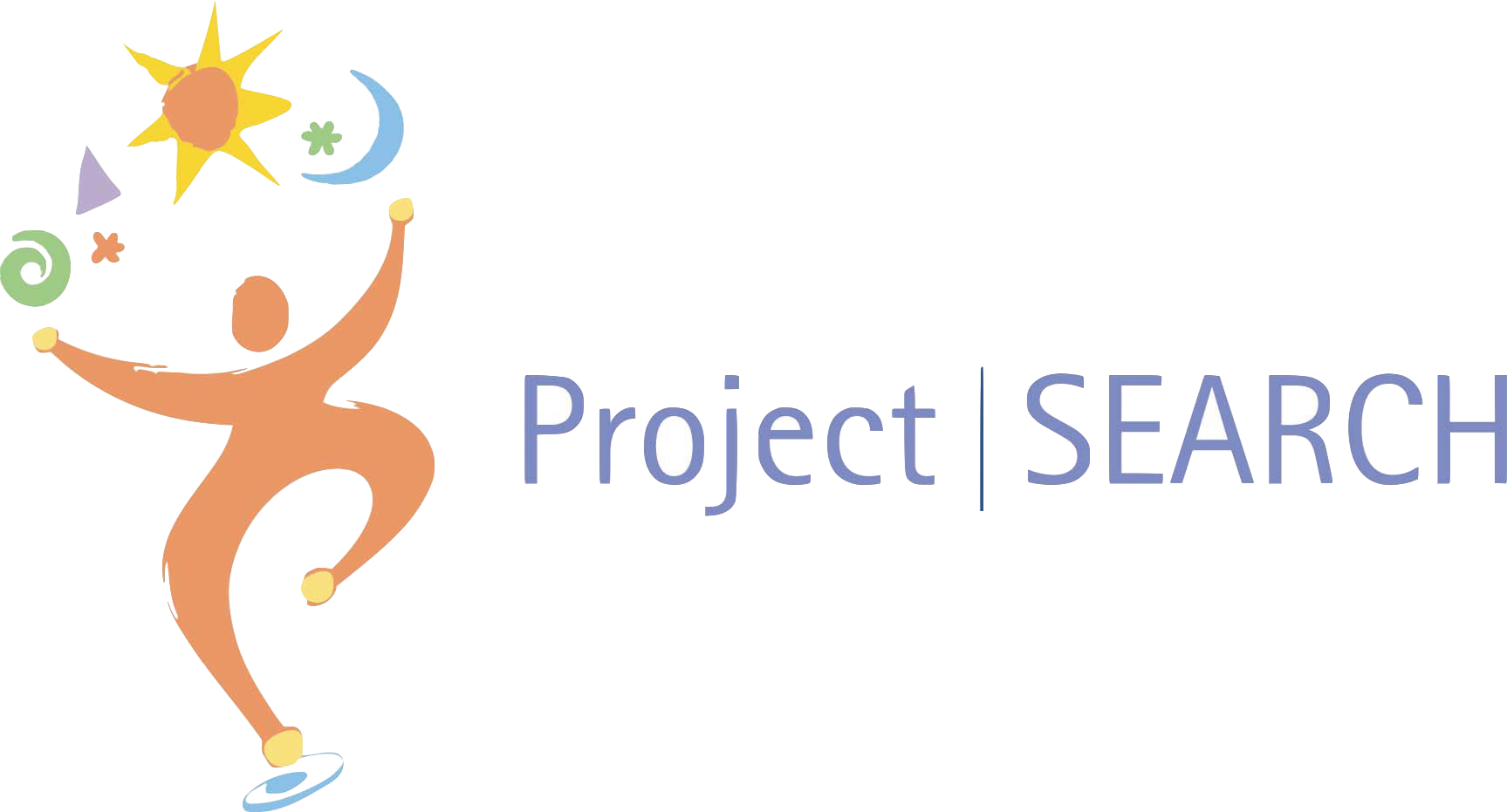 Project SEARCH outcome measures are based on a rigorous definition of competitive employment that includes the following criteria:
Competitive employment in an integrated setting

(i.e. among co-workers with and without disabilities

)

Year-round, non-seasonal employment

16 hours/week or more

Prevailing wage
National Project Search Outcomes
| | | | | |
| --- | --- | --- | --- | --- |
| PS Interns | 2014-2015 | 2015-2016 | 2016-2017 | 2017-2018 |
| #Enrolled | 2370 | 2876 | 3232 | 3733 |
| #Completed | 2205 | 2643 | 3026 | 3511 |
| % Completed | 92.7% | 92% | 93.6% | 94% |
| #Employed | 1697 | 2016 | 2420 | 2357 |
| % Employed* | 75.5% | 75.5% | 70.2% | 67.1% |
*Jobs meet Project SEARCH Criteria
To read more in Making a Difference magazine, see below:
Download the pdf version of the Fall 2019 issue.
Download the large print version of the Fall 2019 issue.
---