EXPERT UPDATE: Change Takes Time
by John B. Wells
Fourteen years ago, my son, Joshua, used to work in a sheltered workshop. He was frustrated and wasn't thriving. So, with the help of an employee at the workshop, my wife and I decided to take "Employment First" into our own hands. We advocated for him, deciding together that we would find opportunities for him to work in the community.
Through coordinated efforts, Joshua has been working at Red Robin and Dunc's BBQ Kitchen in Newnan, where we live, and thriving.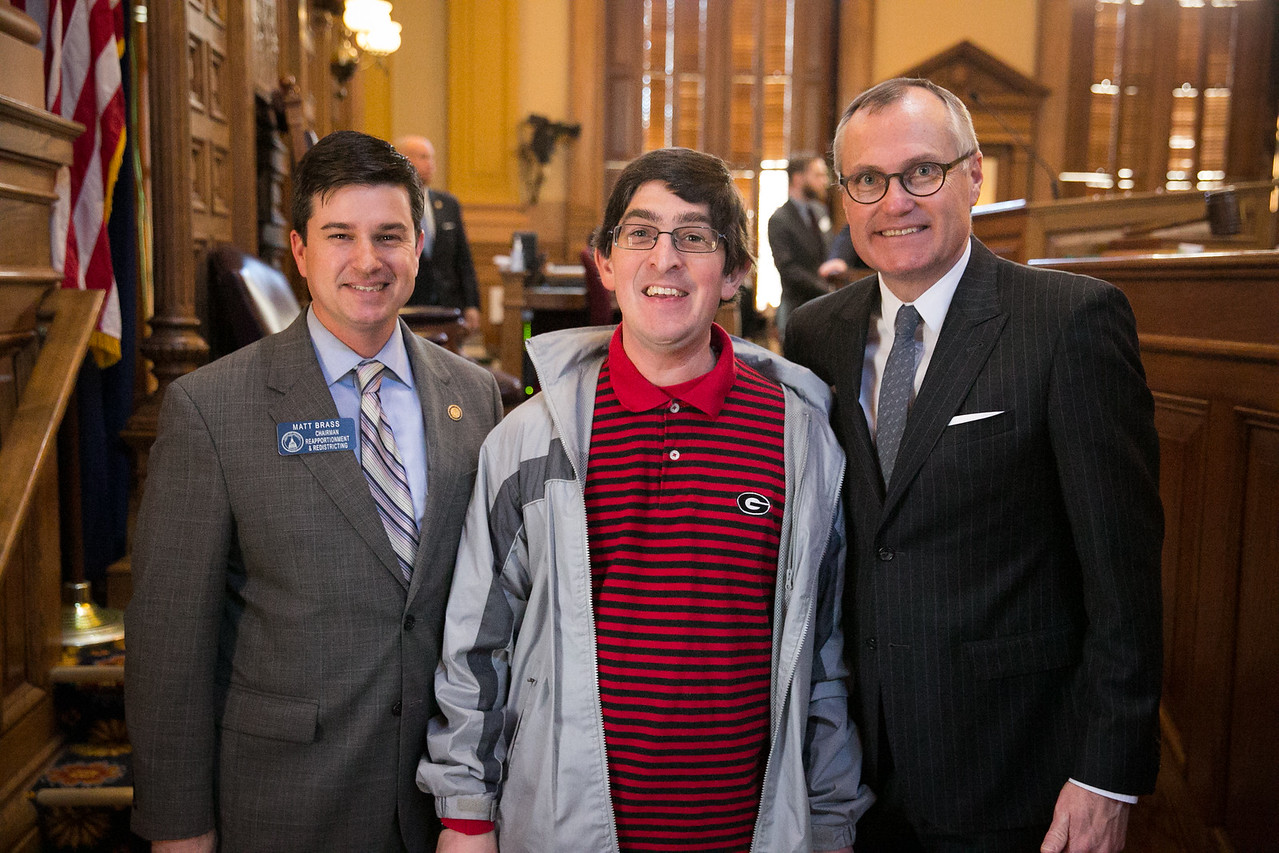 Joshua Wells (center) with Georgia Senator Matt Brass and former Lt. Governor Casey Cagle at the Capitol advocating for Employment FirstWhen I was appointed to the Employment First Council (EFC), I knew it was an honor and came with a responsibility to influence legislation so that other parents could navigate a system that was easier, involves less hurdles and solves problems.
I learned a whole new language - who does what, how they operate and how they interact. And what I learned was that while Georgia has a great apparatus in place to deliver services to families and individuals with disabilities, we need better communication.
Our goal is to bring agencies together, so we can make this better for all parents. We hope to develop a clearinghouse - a one-stop-shop - where individuals with disabilities, parents and other community stakeholders can get all of the information they need.
What I also learned is that the people at these various agencies are some of the most passionate and dedicated people who are determined to make a difference. And change takes time.
But as a parent, I know navigating this can be a minefield. I have been involved and advocating on my son's behalf, and it has been a lifelong journey. But many parents don't have the advantage that I do.
As the EFC advocates towards developing a more streamlined effort, I cannot recommend enough to encourage parents to develop relationships with a job coach because the breakdown happens after your student will leave high school.
As parents, we must push, we must get involved, because only then good things can happen.
John B. Wells is a parent advocate and the vice chair of the Employment First Council.
To read more in Making a Difference magazine, see below:
Download the pdf version of the Fall 2019 issue.
Download the large print version of the Fall 2019 issue.
---