REAL COMMUNITIES: Welcoming Community Dialogues Hosts Inaugural Summit
Earlier this summer, when Welcoming Community Dialogues (WCD) implemented its community meetings, the key question was, "Who's missing from the table?" This month, the WCD team will bring together communities throughout Georgia for an extensive dialogue on issues, lessons and next steps for communities.
The community groups will gather October 24, from 10 a.m. to 5 p.m. for the first Welcoming Community Dialogue Summit at Clarkston Community Center, 3701 College Ave, Clarkston, GA with a goal of learning, sharing and adopting ideas from each other. People and organizations interested should register for the summit to talk, listen, and learn with others who are actively involved in changing their world through conversations and collaborative action.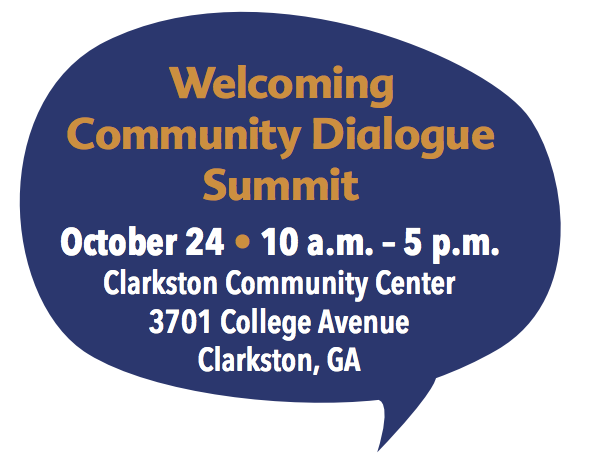 The format of the summit will begin with groups sharing about their community issues. Facilitators will then guide the groups' discussion around the seven elements of the Welcoming Community Dialogues:
Changing Narratives
Radical Hospitality
Human Rights
Listening, Connecting & Building Relationships
Respect & Empathy
Active Contributors
Shared Power & Decision Making
"During the Summit, current Welcoming Community Dialogue groups will come together to build relationships, dream, share strategies, learn from and work with one another and others to plan collaborative actions for creating welcoming communities," says Malaika Geuka Wells, community organizing coordinator for Global Ubuntu.
Groups gathering for the summit will also share about race, class, poverty and the impact these have on their communities. As the summit winds down, a list of action items specific to each community will be created.
"The Welcoming Community movement means all are welcome, all have a sense of belonging and all are contributing to society," says Sumaya Karimi, the project organizing director for Real Communities Partnership and founder and director of Global Ubuntu.
"This is a collaborative effort. It is an important conversation to have together to make positive changes," explains Wells.
GCDD and Global Ubuntu will continue to offer financial support, technical assistance, training and other resources to each community group as they work towards eliminating childhood poverty, empowering women, securing affordable housing and mitigating the impact of the prison system for people with and without disabilities, among other issues.
For information on this initiative or about the upcoming Welcoming Community Dialogue Summit, check out Global Ubuntu's website or GCDD's Real Communities website page. Space is limited and registration is now open for this FREE event. Please register by October 20.
Upcoming Welcoming Community Dialogues
Welcoming Community Summit
October 24: 10 AM – 5 PM
Clarkston Community Center
3701 College Avenue
Clarkston, GA 30021
To read more in Making a Difference magazine, see below:
Download the pdf version of the Fall 2019 issue.
Download the large print version of the Fall 2019 issue.
---