REAL COMMUNITIES: Welcoming Community Dialogues
by Jennifer Bosk
"Who's missing from our table?" is the key question for the implementation and success of the Welcoming Community Dialogues that are part of the Real Communities Partnership initiative the Georgia Council on Developmental Disabilities (GCDD) and Global Ubuntu are working on together.
"In order to change the current culture, we need a different narrative than what we have right now," explains Sumaya Karimi, the project organizing director for the Real Communities Partnership. That culture change includes bringing people of all abilities/disabilities, all races and all incomes together; providing transportation, interpreters, childcare and whatever is needed to have an all-inclusive group to dialogue about issues facing their particular communities.
Welcoming Community Dialogues recently began in Augusta with the group choosing to focus on eliminating childhood poverty for all children regardless of disabilities or race. More dialogues will happen in August with topics covering bridges out of poverty and addressing the root causes of poverty.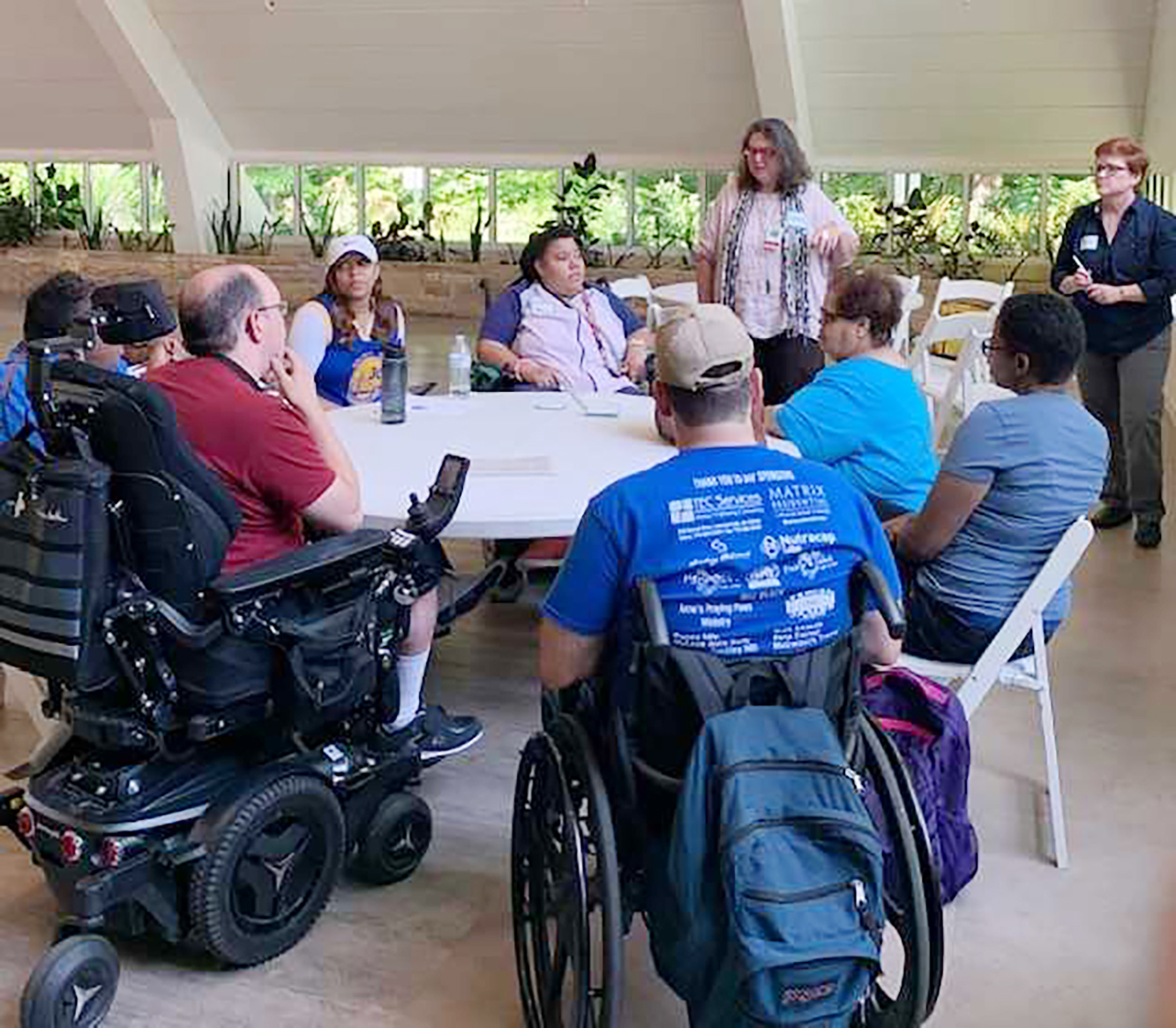 The Athens community dialogue has focused on an anti-discrimination movement and already met about criminal justice reform, creating a task force to work on these issues. In July, the dialogue will concentrate on empowerment for women of all abilities and races and on mental health and racism in school-aged children.
"The communities define what they want to accomplish, study why the issue exists, define its root cause and what needs to be done to create change," adds Karimi. "Everyone needs to realize that all issues impact everybody including people with disabilities, people of different races and people of different income levels."
Six community sites began their dialogues last spring and six more are in the process of starting, including the aforementioned Augusta and Athens. In addition, Karimi plans to create a New Neighborhood Network with a focus on affordable and accessible housing, and Clay County will bring together 50-75 youth of all abilities and races for two dialogues on empowerment as well as an empowerment training session. In LaGrange, the community dialogue will discuss how people with disabilities are affected by the prison system and look at the dignity and justice for homeless families.
On October 24, all 12 of the Welcoming Community Dialogue groups will gather together for the first Welcoming Community Summit to be held at Clarkston Community Center, Clarkston, GA. The groups will share their findings and action steps, along with the impact they have made on their community to date.
In creating these Welcoming Community Dialogues, Karimi says they all share these seven elements:
Changing Narratives

Radical Hospitality

Human Rights

Listening, Connecting and Building Relationships

Respect and Empathy

Active Contributors

Shared Power and Decision Making
"The key in these dialogues is co-existence, justice and fairness," says Karimi. The community dialogue groups are intentionally made up of people with and without disabilities, representing all income levels and races. Karimi's goal is to have 20 community sites by the year 2020.
Upcoming Welcoming Community Dialogues
SAVE THE DATE!

Welcoming Community Summit
October 24, 10 AM – 4 PM
Clarkston Community Center
3701 College Avenue, Clarkston, GA
ARK REFUGE MINISTRIES
August 7, 10 AM – 1 PM
How People with Developmental Disabilities Affected by Prison Can Play a Role in Reentry Services
August 15, 4 – 7 PM
Dignity and Justice for Homeless Families, Veterans and People with Disabilities
August 23, 10 AM – 1 PM
How People with Developmental Disabilities Affected by Prison Can Play a Role in Reentry Services
All dialogues will take place at 504 E. Depot Street, LaGrange, GA 30241. Lunch or dinner will be served. Contact (706) 845-0335.
AUGUSTA PARTNERSHIP FOR CHILDREN
August 8, 9 – 11 AM
Poverty Simulation and Community Dialogue
Julian Smith Casino
2200 Broad Street
Augusta, GA 30904
August 21, 9 – 11 AM
Bridges Out of Poverty Community Dialogue
Thankful Baptist Church
302 Walker Street
Augusta, GA 30901
CLAY COUNTY HEALTH PARTNERSHIP
July 16, 10 AM
Youth Empowerment Focus Group (Ages 14-18)
Text 229-881-2675 or email
For more information, visit Global Ubuntu's website or GCDD's Real Communities web page.
To read more in Making a Difference magazine, see below:
Download the pdf version of the Summer 2019 issue.
Download the large print version of the Summer 2019 issue.
---