AROUND THE STATE: Miracle Field Hits Home Run on Inclusive Baseball Experience
by Tim Orff
In the Valdosta-Lowndes County area, there were few options for the 5,000 kids with disabilities to engage in physical activity. In 2004, after doing research on the issue, current city councilman and former Valdosta State football player Andy Gibbs saw a need and founded the Miracle League of Valdosta (MLV).
With the help of many in the community, Gibbs began the local Miracle League chapter so those with disabilities could play and enjoy baseball with no obstacles.
To achieve that, a Miracle Field, which is a two-dimensional, rubberized, accessible baseball field, would have to be built.
Gibb's determination to create that field led to forming a board that included members of the Miracle League and Valdosta-Lowndes County Parks and Recreation Authority (VLPRA). Within six months, they were able to raise over $1.7 million.
With the VLPRA's help, the money created the Miracle League Complex at Freedom Park, a 14-acre, state-of-the-art complex, which opened in March 2019 and is home to the nation's largest Miracle Field.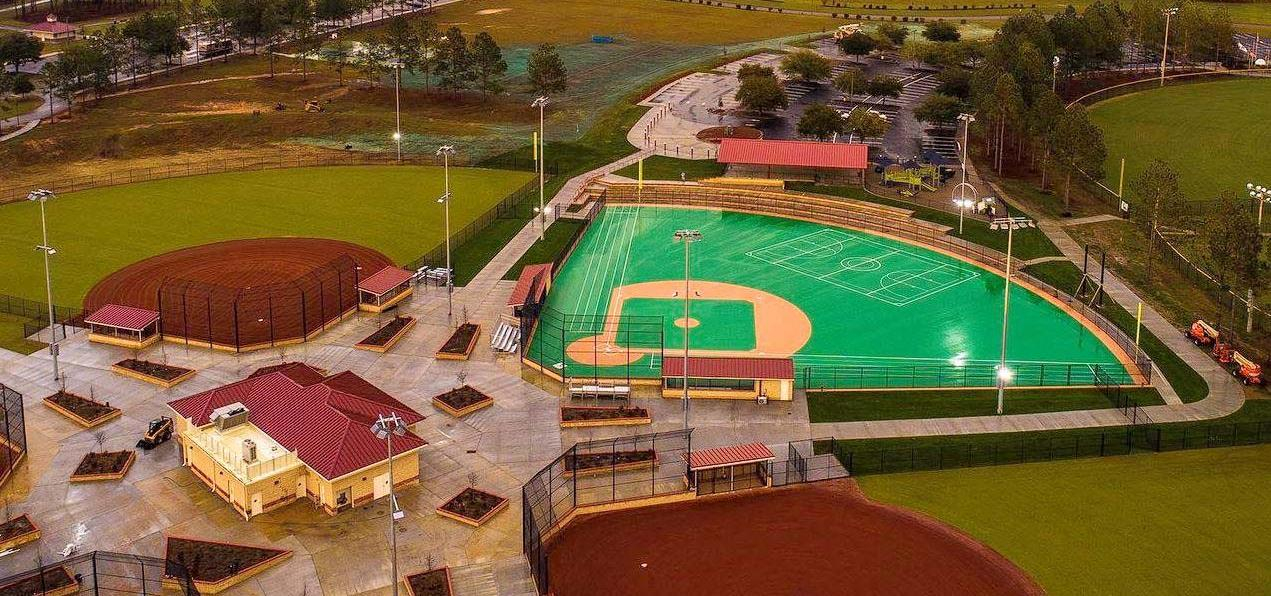 In addition to baseball, this field also includes four 50-meter race lanes for track and has space to play soccer and basketball. "[We] wanted to give kids all the options they could to play as many sports as possible," said Gibbs, who is also MLV's league director. "It's our goal to always provide a place where [Valdosta's] kids and adults have somewhere to be and [are] welcomed," he added.
During the MLV season, which lasts for six weeks, athletes on each team learn the fundamentals of baseball and are given the same fanfare as Major League Baseball (MLB) players with their own "walk-up" music, name announcement and replica
MLB jerseys and hats. Additionally, MLV utilizes a "buddy system," which pairs each player with a peer without disabilities.
More than just playing a game, Gibbs also believes that MLV is about making new friends, building self-esteem and being treated just like other athletes without disabilities.
"Parents come up to us and say, 'you don't understand what this has done for my family' and we feel blessed being able to take what God has given us to serve others," Gibbs said.
The first season played on Miracle Field took place from March to April 2019 and included 114 kids and adults with disabilities and over 350 volunteers.
Gibbs attributes the success of the Miracle League Complex to "what happens when a county and city come together to meet the needs of its kids," and is also proud of how the entire community created a standard of inclusion.
He stated, "When people think of [MLV], we want them to think about how to include everyone, provide an opportunity to feel special and to say, 'People DO care about me.'"
Serving Valdosta-Lowndes County and the surrounding area, the Miracle League Complex also includes four additional regulation baseball fields, a wheelchair-accessible pavilion that can hold 180 people, a tiered amphitheater and a fully accessible playground, which are open to all visitors.
The next MLV season kicks off in September and lasts until Halloween, and future plans for the complex include movie nights, a "Parents Night Out," a kickball league and more.
To sign up for the upcoming Miracle League of Valdosta season and to volunteer, contact Andy Gibbs at or 229.563.8877 or visit the MLV Facebook page.
The Miracle League® offers opportunities for children with mental and/or physical challenges to play baseball. The organization designs and constructs custom baseball fields that have a rubberized turf to prevent injuries, wheelchair-accessible dugouts and a completely flat surface to eliminate barriers to wheelchair-bound or visually-impaired children. The Miracle League gives more than 200,000 children and young adults with disabilities across the US, Canada, Mexico and Australia the opportunity to enjoy America's favorite pastime.
To read more in Making a Difference magazine, see below:
Download the pdf version of the Summer 2019 issue.
Download the large print version of the Summer 2019 issue.
---