It's A Bird! It's A Plane! It's Team Supreme!
by Jennifer Bosk & Devika Rao in collaboration with Tim Orff
While Superman is busy fighting for truth and justice and Batman once again faces the Joker, there's a whole new team of superheroes who are taking the universe by storm. Meet Team Supreme, a troupe of kids with disabilities who have superpowers, allowing them to make the world a better place.
Team Supreme includes:
Zeek, 11 years old with autism, who uses his extreme memory and intellect to solve puzzles;

Sweet Pea,

8, Zeek's sister who is diagnosed with sickle cell. Her superpower is her loving and giving heart;

Mech

, 12, diagnosed with spina bifida and incredible with his hands, allowing him to build gadgets and code computer systems;

Li,

12, is blind and uses her enhanced senses of hearing and smell that allow her to find people and places; and

Thumper,

7, is deaf, and his superpower allows him to see through sound and have enhanced peripheral vision.
The team is led by Dr. Jackson, their adoptive father who utilizes his super-human brain power despite his debilitating depression. His mission is for greatness delivered through his children.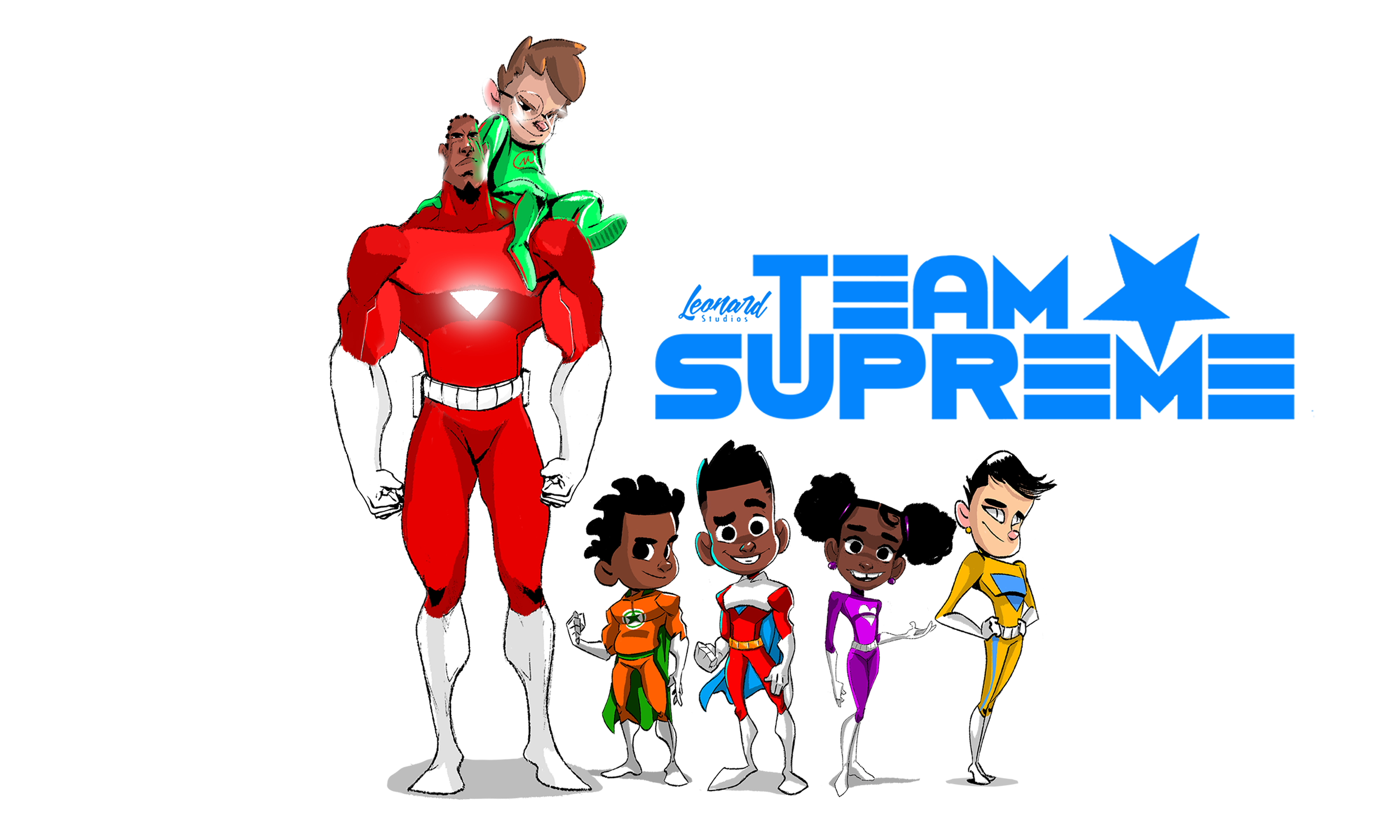 The Journey to Team Supreme
Developed and created by Atlanta-based artist and animator, Joshua Leonard, 35, Team Supreme became an answer to a problem in mainstream media. Growing up, every time Leonard saw a superhero in the media, it was the, "same old, big, guy with muscles. I was so tired of them all looking the same," Leonard explains.
So, he set out to create superheroes for his team which included boys and girls with all skin tones and with all types of abilities and disabilities. "I believe we need more representation of people with disabilities in the arts to teach people that different is good. If I can show them via a creative way of teaching, they'll understand better," Leonard adds, who was trained at the Art Institute of Atlanta in media arts and animation.
And he hopes Team Supreme does just that.
"I want this to reach the masses and teach the masses. The goal is to not only show these specific characters in the light, but also to make a fun, cool type of cartoon that everyone will love," Leonard explains.
He has worked at Home Depot for the past 14 years, and it was there he met a co-worker who has a son on the autism spectrum.
"He is so smart," Leonard says. "He knows the definitions of everything, can talk numbers, sports … anything." The son became the inspiration for Team Supreme's Zeek.
He dove more deeply into his art to help him cope when his best friend was murdered in 2008. Team Supreme's Dr. Jackson is based on this friend.
The Bigger Picture
Some mainstream superheroes are individuals with disabilities: Marvel's Daredevil, attorney Matt Murdock, blinded in a childhood accident, uses his heightened radar sense to fight crime; Hawkeye, who became deaf saving all of New York's superheroes, uses his enhanced marksmanship and intellect as a member of the Avengers; and Professor Charles Xavier, (Professor X), a geneticist who uses a wheelchair and leads the X-Men, just to name a few.
But representation of people with disabilities in the media overall is growing glacially. A March 2019 report by The Ford Foundation called the "Road Map for Inclusion: Changing The Face of Disability In Media" detailed how few people with disabilities are seen in movies and on TV.
The report cites GLAAD's Where We Are on TV '18-'19 report that states:
"Only 2.1% of primetime broadcast TV series regulars – or a total of 16 characters – have disabilities. A recent Annenberg study found that, across the 100 top-grossing movies of 2016, only 2.7% of characters were depicted with a disability, only 2.5% of characters were depicted with a disability over the past 10 years, and nearly half of the films across the top 100 did not include a single character with a disability."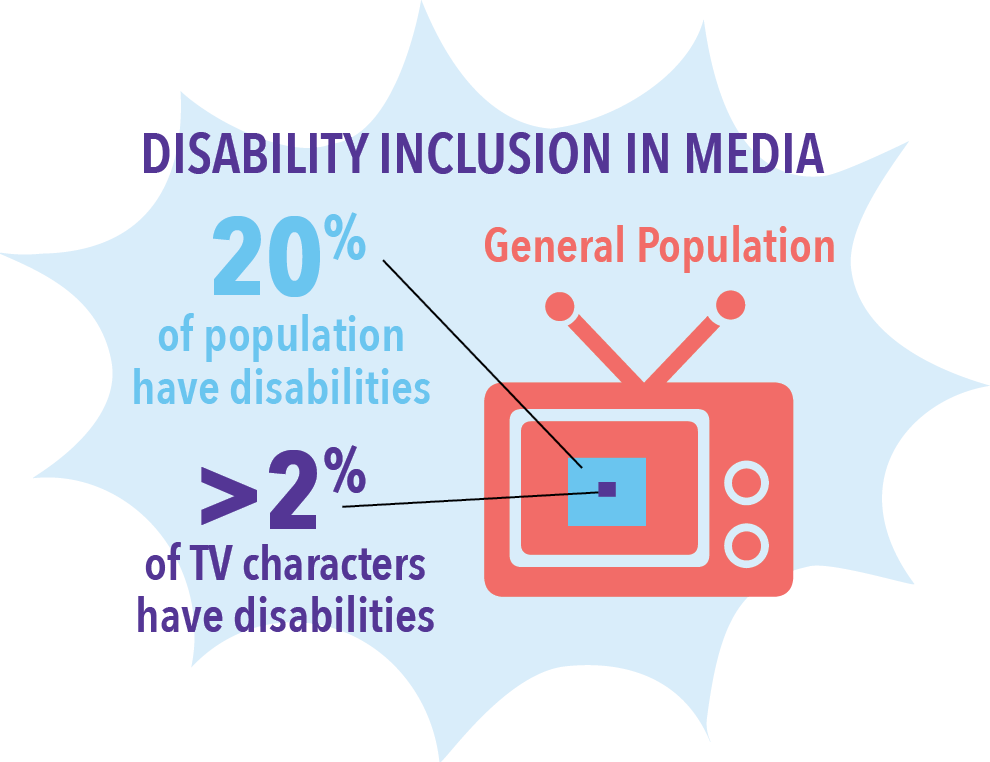 While progress is slow, there are small positive changes to the media landscape. A new crop of shows like ABC's "Speechless" (now canceled) or Netflix's "Special" are not only focusing on positive, everyday lives of people with disabilities, but also casting people with disabilities to play the part.
At the time of this writing, CBS Entertainment released news pledging its role to improve disability inclusion in Hollywood, according to an exclusive report by The Hollywood Reporter.
According to the article, the company pledged to "audition actors with disabilities for each new production going forward. CBS will now do so for each of its new projects that gets a series."
The pledge came on the heels of a report by the Ruderman Family Foundation that stated, "55 million Americans (about 20% of the population) have disabilities, but fewer than 2% of television characters do. And of those characters, 95% are played by able-bodied actors."
The network became the first studio in the industry to make this pledge to increase representation of people with disabilities on its shows through its audition processes.
The Power of Gifts
It is important to add that Team Supreme is not depicting people with disabilities to be superheroes in their everyday life. In other words, it is not pushing the trope or cliché that by doing everyday things like going to work or school, spending time with family and friends is by any means "extraordinary."
Team Supreme adds to the genre about everyday people who live with secret superpowers or talent and gifts to do good in their communities and around the world – like Peter Parker's Spiderman who has the spider-like ability to cast webs and helps to fights crime in New York; or Maya Lopez's Echo, one of the very few deaf superheroes, who uses her talents of photographic reflexes and memory to fight evil alongside Daredevil, the Avengers and New Avengers.
Leonard envisions that Team Supreme will use its collective power and gifts to make the world a better place by fighting bullying and other issues that all people struggle with today, including children with disabilities. The team of superheroes would promote a world of acceptance, inclusion and self-love.
The Supreme Impact
As Leonard continues to create and draw Team Supreme's superheroes, he consults with other friends and medical professionals about disabilities and medical differences to incorporate into his characters. He did a lot of research to get the information he shares, via the superheroes, correct.
He is also currently developing a grade school curriculum, based on Team Supreme, to help teach children about diversity and inclusion. Using short, animated films about the pint-sized superheroes, Leonard also hopes to explain the importance of an inclusive community.
He shares his art knowledge and skills by speaking to students pursuing arts education. Most recently, he led a character design workshop for students at Kennesaw State University and taught an animation and character design lesson to students at Cumberland Academy of Georgia: Autism School Atlanta.
"The best part of all of this is the kids' reactions," says Leonard. He shares about a young boy named Jaiden with autism. His mother, Shekira, made him a Team Supreme "Zeek" costume and when Jaiden puts it on, he becomes more outgoing and more confident, even dancing in crowds.
And there are plans for Team Supreme to grow. There are numerous other characters on the team and Leonard intends to add individuals with Down syndrome and other intellectual, developmental and medical differences.
His plan is for Team Supreme to hit the big time – possibly Netflix, Disney or another streaming service – within the next two years. Leonard is working with Emmy Award-winning writer, creator and actress Lena Waithe and founder of the Hillman Grad Network, an organization that provides free resources, opportunity and access to emerging artists in the entertainment industry.
With her collaboration, Leonard hopes to create an entire series of animated Team Supreme shows as well as a print comic book series.
His journey has brought him to Team Supreme, and through his experiences, he is focused on what this team of superheroes means to him.
"I'm not doing this for fame or money. Seeing those kids faces is what it's about," adds Leonard.
"I want kids to see themselves in these characters and to believe in themselves."
CBS Disability Inclusion Pledge
We recognize that disability is central to diversity, that the disability community comprises the largest minority in our nation, and that people with disabilities face seclusion from the entertainment industry.

We understand that increasing auditions, no matter the size of the role, is a critical step toward achieving inclusion in the industry.

This studio pledges to increase the number of actors and actresses with disabilities who audition for parts on television and in film.
Source: "CBS Signs Pledge to Audition Actors with Disabilities." June 19, 2019. Rebecca Sun for The Hollywood Reporter
Follow along on Team Supreme's and Leonard's adventures on his Leonard Studios website and see these stories evolve.

To read more in Making a Difference magazine, see below:
Download the pdf version of the Summer 2019 issue.
Download the large print version of the Summer 2019 issue.
---