Real Communities: A Real Community Has Room for All
On February 22, 2014, two middle school students from Charles Ellis Montessori Academy in Savannah, GA, presented during the Youth Leaders panel of the 17th annual Georgia Organics conference on Jekyll Island. Emma and Becca presented on their experiences with learning science concepts through their learning garden at school. Their talk reflected their interactions with the community at large and with the younger students of Charles Ellis. Prominently featured in their community portion was Johnny Smith, a Mixed Greens member.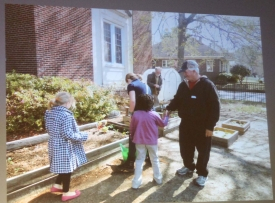 As a Mixed Greens member, Johnny helps facilitate the Little Green Wagon, an interactive youth seed planting project. The Little Green Wagon is entering into its third season of existence at the Forsyth Farmers' Market and wouldn't exist without the weekly care from Johnny.
Last year, Johnny was invited to help replicate the Little Green Wagon project at Charles Ellis. He quickly became an important part of the middle school farm to school program and the larger Charles Ellis Academy family, eating lunch with the middle school students on garden days and working with younger students during re-delivery activities.
In addition to all of these wonderful things, seeing the students include Johnny as an integral part of their farm to school activities at a major southeastern farm & food conference was a Real Communities moment. Johnny was included in their presentation as a matter of fact and without any special markers, labels or explanation. His presence wasn't noted as important or a big deal or significant; his presence was noted because he's simply a part of their Charles Ellis Montessori Academy community, a Real Community that has room for all.
Teri Schell
Founder of Forsyth Farmers' Market, Savannah
Schell recieved the 2014 Barbara Petit Pollinator Award for her leadership in Georgia's sustainable farming and food movement at the 17th annual Georgia Organics Conference.
Tags: GCDD, Atlanta, Real Communities