Public Policy
Tell Your Story on Disability Day, February 20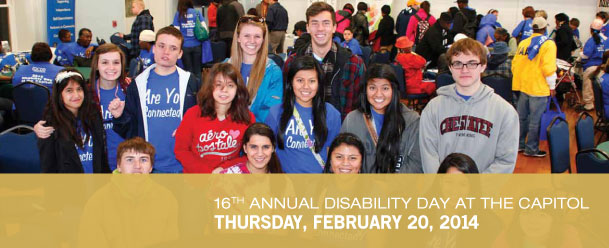 The 16th annual Disability Day is being held on February 20, 2014 at the Georgia State Capitol, and GCDD wants to tell your story. That's the theme for Disability Day, "We All Have a Story...What's Yours?" and this year, the annual rally will feature an Olmstead 15th anniversary celebration, "I am Olmstead" Stories of Freedom and StoryCorps Recordings and Signup Exhibit. The rally brings together over 2,000 people who advocate and promote access, opportunity and meaningful community living for all Georgians, including people with disabilities and their families. Each year, citizens with and without disabilities gather the community rally on the steps of the State Capitol to join advocates, meet with state legislators and make their voices heard.
Join us on the Capitol steps on February 20 and tell your story with GCDD! Click Here to Register.
9 - 11 a.m. T-Shirt Distribution, Activities and Exhibits before the Rally at the Georgia Freight Depot
11 a.m. - 12:10 p.m. Rally Program on the Capitol Steps
12:30 - 2 p.m. Lunch and exhibits at the Georgia Freight Depot
At GCDD, we know that Georgians with disabilities want to live full lives in our communities, and they are fully capable of doing so. And we know that if we, the citizens of Georgia, choose to make positive changes to our system, more and more people with disabilities will be working in our communities, living with their families or their friends or independently as they so choose, and contributing to their communities all across Georgia. When all our citizens, including those with disabilities, are able to use their gifts and talents and pursue their dreams, it creates a better Georgia for us all. And that truth doesn't stop at the Georgia border – public policy that is truly inclusive of citizens with disabilities results in stronger communities across the entire country, and indeed around the world.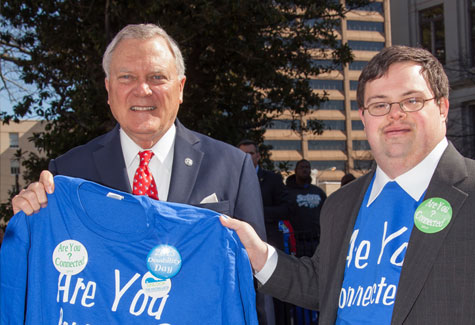 GCDD member Evan Nodvin with Governor Nathan Deal at Disability Day 2013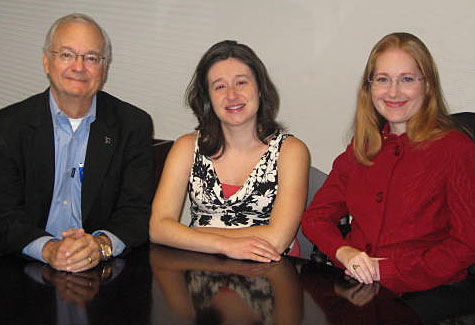 The GCDD Public Policy Team: Dave Zilles, D'Arcy Robb and Dawn Alford

GCDD's resources, vision, values, goals and mission create the solid platform that continues to influence the direction of public policy at state and federal levels. For more information about the specific public policy objectives we are pursuing, we encourage you to explore our legislative agenda and the resource links on this page. If you'd like to become involved, please click the "Get Involved!" button at the top of this page to join our grassroots advocacy network.