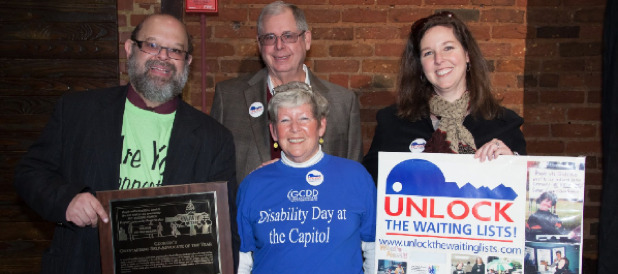 The GCDD makes funds available to fulfill its mission in accordance with the Act and its Five-Year Strategic Plan (pdf file). Through its funding, GCDD works to increase the capacities and resources of public and private non-profit entities and others to develop a comprehensive community system that responds to the choices, capabilities and needs of persons with developmental disabilities and their families. The purpose of Council grants are to expand best practices and contribute to system wide changes that support the rights of people with developmental disabilities and their full inclusion as community members. Recipients of GCDD grants are expected to be ongoing partners bringing about change.

The GCDD is authorized to grant funds to public and non-profit entities and for profit organizations. The funding of projects is contingent on the GCDD's receipt of sufficient federal funds. Changes in the level of federal appropriations to the GCDD may result in the withdrawal of some or all projects or reduction in funding after the announcement of a grant award. The GCDD assumes no responsibility for the costs incurred by applicants prior to formal awarding of a grant and reserves the right not to fund a proposal requested. in the project area.

Notice of Funds Available (NFA):
Support for Youth Summit
NoFA # 13SA2
Amount: $20,000
Dates of Service: July 1, 2013 – June 30, 2014
Application Due: June 1, 2013

Description: The GCDD seeks to strengthen the connection of self-advocacy work to broader community change efforts happening around the state of Georgia by finding avenues to intentionally connect youth (ages 14-22) with and without disabilities together to create their own community-based solutions and strategies. Grantee will facilitate a youth summit and support young people attending the summit, laying the groundwork to develop and strengthen cross-community relationships and strategies beyond the disability community. Through this summit and the development of youth-directed action and evaluation plans, the GCDD hopes to increase the capacities of young people, with and without developmental disabilities, to effect change around issues that are of common interest in their local communities.

Questions will be received via conference call on May 24, 2013, at 12 PM EST. To participate,

• Dial: 1-800-264-8432
• Passcode: 523437#

Visit http://ddsuite.org/grants/nofa_detail.php?nofa=814 for NoFA application details.
Partnership Fund
The Partnership Fund is a program that awards small grants (not to exceed $2500 dollars) that help individuals with disabilities and their family members attend advocacy, learning events and conferences. All awards are reimbursements; funds are not made available before the event. Please note that no individual, group or organization may receive partnership funds in successive years. Completed applications should be emailed to Sharon Strandberg, This e-mail address is being protected from spambots. You need JavaScript enabled to view it at least 30 days before the event. Questions may also be emailed to This e-mail address is being protected from spambots. You need JavaScript enabled to view it .

Fill out the Partnership Fund Application
Innovative Grants
Innovative Grants are small, renewable grants for unique projects that help people with developmental disabilities overcome the barriers to participating inclusively in all aspects of life with real careers, homes, learning, supports and influence.

The ultimate outcome of Innovative Grants is to promote policies, systems change, and capacity building programs that improve the quality of life for Georgians with developmental disabilities. Due to budget cuts, applications will not be accepted for innovative projects on April 1st. Questions may be emailed to Sharon Strandberg at This e-mail address is being protected from spambots. You need JavaScript enabled to view it .

Fill out the Innovative Grants Application
Conference Support Funds
The purpose of the Conference Support Fund is to support and/or participate with organizations and groups providing conferences, meetings and workshops for education, training, policymaking, and advocacy activities in the Developmental Disability community. With the approval of the Executive Director, the Council may provide up to $2,500 to these organizations and groups as a support to assist with the cost of conferences, meetings and workshops, and to allow for participation of Council Members, Employees, consultants or other interested members of the disability community in the event.

To qualify for Conference Support funds, the Organization or Group must provide documentation that verifies where the event will take place, the date, time, purpose (agenda), and who may attend the event. No funds will be granted prior to confirmation of these requirements. Completed applications should be emailed to Sharon Strandberg, This e-mail address is being protected from spambots. You need JavaScript enabled to view it at least 30 days before the event. You may also fax applications to Sharon Strandberg at 404-657-2132. Questions may also be emailed to This e-mail address is being protected from spambots. You need JavaScript enabled to view it .

Conference Support Application